We're gay, can we foster? Sarah and Emma's story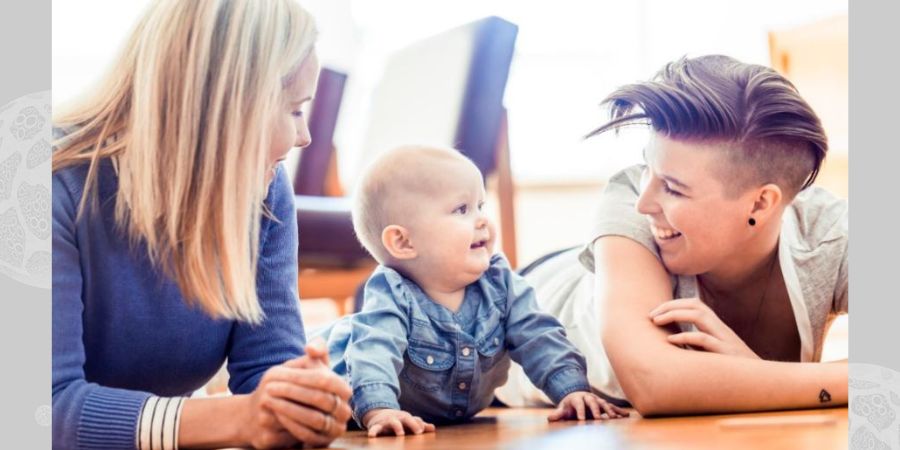 March 2019
Sarah and Emma have just finished the assessment process to become foster carers with us. Sarah explains in her own words how they felt about the process and their journey to becoming foster carers.
"For many years Emma and I have never doubted having or wanting children in our lives. We've been in a same-sex relationship for 12 years and during our relationship we've discussed fostering many times but we were always a little afraid as we are a gay couple.
After seeing an advert to become foster carers with Rochdale Council which mentioned LGBT carers can apply, we decided this was the right time and applied there and then. The response was almost immediate and, sure enough, we had a visit about 2 weeks later by a social worker to discuss the fostering process and what to expect.
Never was it even mentioned that we were a same-sex couple until much later in the process when we came to our personal testimonials where we discussed our lives and growing up, relationships, partners, family, so naturally being gay was part of this and we were comfortable enough with the social worker to open up and discuss our lives, knowing we were supported.
Never did we feel in a minority or judged or different in any way, we were treated as a couple. We then attended Skills to Foster – an intense 3-day course with other future foster carers. Starting the journey on the course is where you gain valuable information on the process, children's issues, how to deal with various situations and the implications of fostering in your home.
Some of these sessions were tough and really open your eyes to the realities of fostering and also the true rewards fostering can give. Again, never did we feel different or judged for being gay, we were just Emma and Sarah – potential new carers. I mean who wouldn't want 2 fab foster mums!
"It doesn't matter who you love, just share some of that love around"
I think we were more concerned about the potential children we would be caring for and how they would feel about a same-sex couple looking after them, or indeed their parent's feelings about us. The Skills to Foster course and some positive words from our social worker answered these questions for us and gave us the confidence that these wouldn't be issues we couldn't overcome.
Also, the fact we haven't had children in our lives and would we be at a disadvantage - never mind being gay!!
Again, our social worker made us feel at ease and gave us the confidence to continue with our journey.
The assessment process is very intense but eased with our fabulous social worker who was there every step of the way. If a question popped up we could just message her and she would come back to us very quickly. It was her job to delve into every aspect of our lives, from birth upwards. Sometimes this could feel a little intrusive but we understood why they needed this information and in no way through this process did we feel judged or different due to our sexuality. In fact with each session we felt more comfortable and built a strong bond with our social worker, we felt extremely supported and that has never changed from day one.
Finally, we are starting to feel the reality of becoming foster carers is imminent – we are so close to our panel date and ready to start making a difference to hopefully many children's lives.
The world has changed- for the better- we are human beings, doesn't matter who you choose to love, just share some of that love around".