Mayor – Councillor Mike Holly
The Mayor of Rochdale 2023-2024
Mike was born and bred in Swansea. He attended Dynevor School and won an exhibition to read chemistry at Jesus College, Oxford.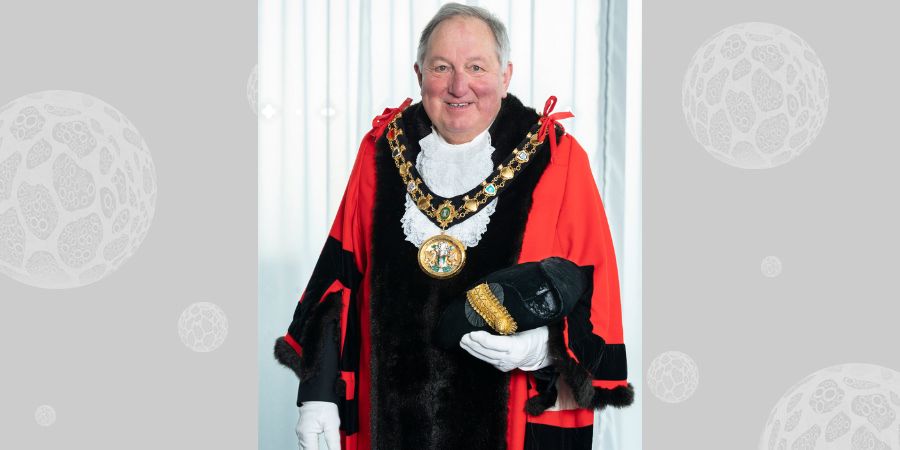 Mayor Mike Holly.
Following graduation and marriage to Margaret, he spent a year in Oxford finishing his studies before they both moved to Margaret's birthplace of Littleborough. They moved through Milnrow to the Norden and Bamford ward in 1988 and still live in the same house.
Rochdale borough is Mike's adopted home where his 3 children were all born and grew up, and where he says he now belongs.
Mike joined Peat, Marwick, Mitchell (now KPMG), which is one of the largest accountancy firms in the world, as a trainee in Manchester. After qualifying as a chartered accountant, and following a secondment as a manager to the London office, he became an audit and corporate finance partner in 1985 dealing with large corporates. He was involved with many investigations and acquisitions including overseas work. He was seen as a wise counsellor to fellow partners and staff.
Following a very successful career, Mike retired in 2005. He wanted to get more involved with the community and 'give something back'.
Mike has always been passionate about education and whilst working was a governor and chair of the finance committee for 20 years at Crossgates School in Milnrow where his three children were educated. He was also a governor at Cardinal Langley High School.
Mike was deputy chair of AQA, the examination board charity in Manchester and non-executive director of the Pennine Acute NHS Hospitals Trust. He was chair of the Audit Committee at both organisations.
He also became actively involved with the Conservative party and was elected as councillor for South Middleton in 2006.
He retained his seat in 2010 but was unsuccessful in his attempt to be elected to Parliament for Heywood and Middleton but almost halved the Labour majority.
He became a councillor for Norden in 2014 and still represents this ward today. As a councillor, his responsibilities have included opposition spokesperson for finance and chair of the corporate overview and scrutiny committee.
He has also been chair of the Greater Manchester Combined Authority's overview and scrutiny committee for business growth, the economy and skills since its inception.
Outside of the council, Mike is a devoted family man with four grandchildren. His interests include a passion for travel, the theatre (especially Shakespeare), history and a continued fascination with science.
His main interest remains sport. He played football for Rochdale St Clements and before that, Wardle Parish. He was treasurer of Rochdale Racquets Club for many years where he played squash and tennis. He's now happy to develop and support his grandchildren's love of sport and enjoys watching Wales play Rugby Union in Cardiff and watching some Test Cricket.