Deputy Mayor – Councillor Mike Holly
Deputy Mayor of Rochdale 2022-2023
The deputy mayor is Mike Holly and the deputy mayoress is his wife, Margaret Holly.
Born and educated in Swansea, Mike won an exhibition to read chemistry at Jesus College, Oxford.
Following graduation and marriage to Margaret after a year in Oxford, they moved to Margaret's birthplace in Littleborough. Rochdale has been his adopted home ever since, where his 3 children were born and brought up.
He joined Peat, Marwick, Mitchell (now KPMG) as a trainee accountant in Manchester after qualifying and became audit and corporate finance partner in 1985. He had several senior management roles before retiring in 2005, wanting to get more involved with the community and in his own words, "put something back".
A governor at 2 local schools, Mike has also been deputy chair of the AQA, the Manchester examination board charity and a non-executive director of Pennine Acute Hospitals Trust, as well as chairing the audit committee at both organisations. He was elected Conservative councillor for South Middleton in 2006, retaining his seat in 2010.
He became a councillor for Norden in 2014 and still represents the ward. On the council, he has been chair of the Overview and Scrutiny Committee, opposition spokesperson for finance and also chair of the Greater Manchester Combined Authority's Overview and Scrutiny Committee for business growth, economy and skills.
A devoted family man, Mike has 4 grandchildren and enjoys travel, the theatre, history and sport. He is now developing his grandchildren's love of sport and loves watching Wales play rugby union in Cardiff as well as catching some test cricket when he can.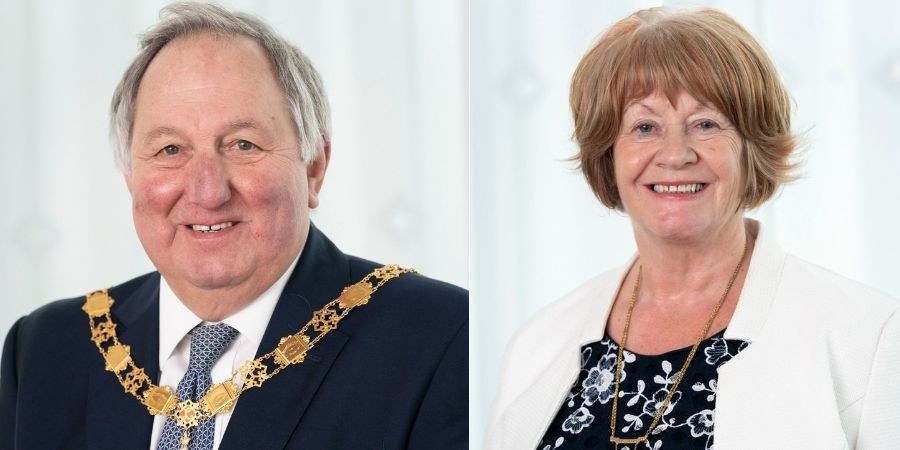 Deputy mayor Mike Holly and deputy mayoress Margaret Holly.