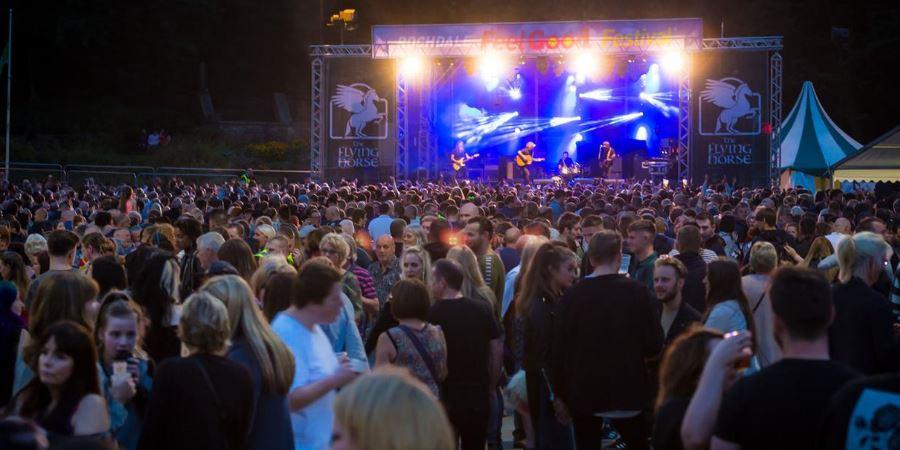 Fabulous entertainment in Rochdale town centre, headlined by The Fratellis. Tickets are on sale now.
Book your tickets
Ticket price: £7 (excluding 35p booking fee)
Ticket availability: tickets can be purchased online from our festival partner Your Trust.
Book tickets through Your Trust
Festival updates on social media
You can get the latest festival updates by following us on social media.
Festival programme
There will be live music across indoor venues, the main stage, an extended food and drink village and other entertainment.
We'll add the official Feel Good Festival programme here in June 2022.
Venues
Opening times
Indoor venues: 12.30pm–2am. Times vary.
Main stage - sponsored by the Lancashire Hospitality Co-operation: gates open 3.30pm. Music from 4pm–9.40pm.
Food and Drink Village: 3.30pm–9.40pm.
Battle of the Bands - your chance to play the main stage
Local bands or solo artists can bag themselves a main stage spot. The winners of this year's Feel Good Battle of the Bands competition will be awarded a coveted 20-minute main stage slot. A runner-up will also get to play in one of the indoor venues.
To enter:
Email a link to a YouTube video of you playing live, along with a short biography to events@rochdale.gov.uk
Write 'Battle of the Bands' followed by your act name in the subject box.
Solo artists must live in the borough of Rochdale, and bands must have at least 50 per cent of their members living in the borough. Entrants need to be available on Saturday, 13 August 2022.
Entries must be received by the closing date of Monday, 9 May 2022. Shortly after the closing date, submissions will be added to our Facebook page, before the top 6 who get the most 'likes' go forward to a judging panel who will decide on who performs on the main stage.
Entry to Rochdale Feel Good Festival
Please note you don't need a ticket or wristband to enter any of the indoor venues in Rochdale town centre.
Exchanging your ticket for a wristband: you'll need to exchange your ticket for a wristband before you can enter the main stage area at the festival. Your wristband will allow you unlimited re-entry to and from the main stage area.
Wristbands will be available from a location to be confirmed in Rochdale town centre from 11am on the day of the festival. You can show your ticket on your mobile device or a printed copy.
When your wristband is being put on, don't let it hang loosely around your wrist. Keep it snug and don't lose or try to undo it. If your wristband's been tampered with, you may be asked to leave the main stage area.
If you've lost your wristband: if you're outside the main stage area, there will be a location in Rochdale town centre, yet to be confirmed, where you should go for help.
If you're inside the main stage area, go to the main stage area entrance and ask for help.
Age policy: all under 18s must be accompanied by a parent or guardian at all times. Our main stage area is not suitable for young children and unaccompanied under 18s will not be admitted.
If someone under the age of 18 leaves the main stage area, they will only be permitted re-entry if accompanied by a parent or guardian. Parents or guardians are responsible for the behaviour of their under 18s. Rochdale Feel Good Festival operates the 'Challenge 25' policy.
Searches: for security reasons, all visitors will be subject to searches of their bags and their person, so pack as light as you can and keep belongings to a minimum. No backpacks or large bags will be permitted. Small bags will be permitted (handbags under 40cm x 35cm x 19cm and drawstring or pump bags under 40cm x 35cm x 19cm). Please cooperate with any security requests and all searches. The less you bring, the quicker you'll get in. Please remember, food and drink are for sale on-site so please support local businesses. Alcohol is not allowed to be taken into the festival, although it will be on sale.
Smoking and vaping: we want to create a welcoming environment for everyone so the Food and Drink Village will be a smoke and vape-free zone. Please help by not smoking or vaping in this area.
Music
Main stage: 4pm–9.40pm
Indoor stages: from 12.30pm.
---
Main stage
The main stage is sponsored by the Lancashire Hospitality Co-operation.
The Fratellis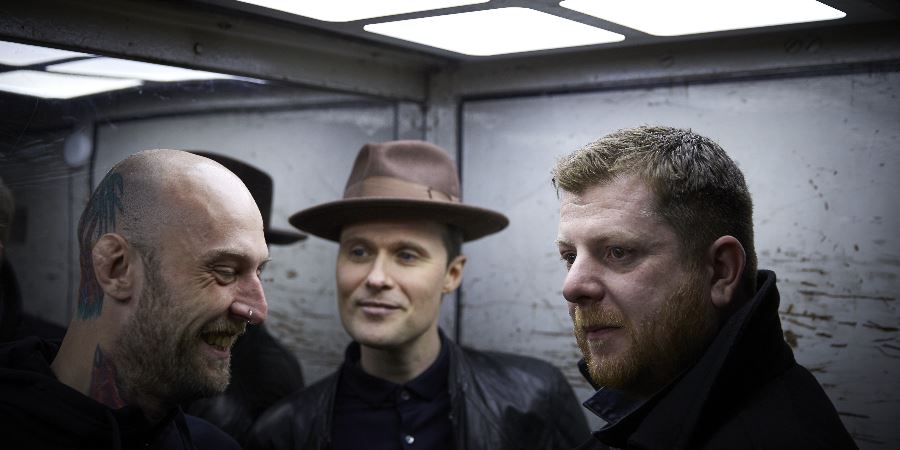 The Fratellis.
Since winning the Best British Breakthrough gong at the BRIT Awards, the multi-platinum Glaswegian 3-piece have enjoyed huge success, with 5 top 20 albums and 5 top 40 singles.
The Fratellis first album – 'Costello Music' sold more than one million copies in the UK alone. While they've enjoyed a string of hits, including 'Whistle for the Choir', 'Henrietta', 'Mistress Mable,' and 'Baby Fratelli' they are best known for the anthemic 'Chelsea Dagger, which remains a playlist staple at sports stadia, clubs and bars worldwide. They played Rochdale Feel Good Festival back in 2016, and since then have gone from strength to strength winning a new generation of fans thanks to the top 5 album in 2018 'In your own sweet time,' followed with the acclaimed 2021 album 'Half-drunk under a full moon'. Earlier in 2021, they collaborated with Rudimental who remixed their single 'Need a little love' as well as releasing a charity cover of 'Yes sir, I can boogie' to coincide with Scotland playing at Euro2020.
---
The Northern Soultrain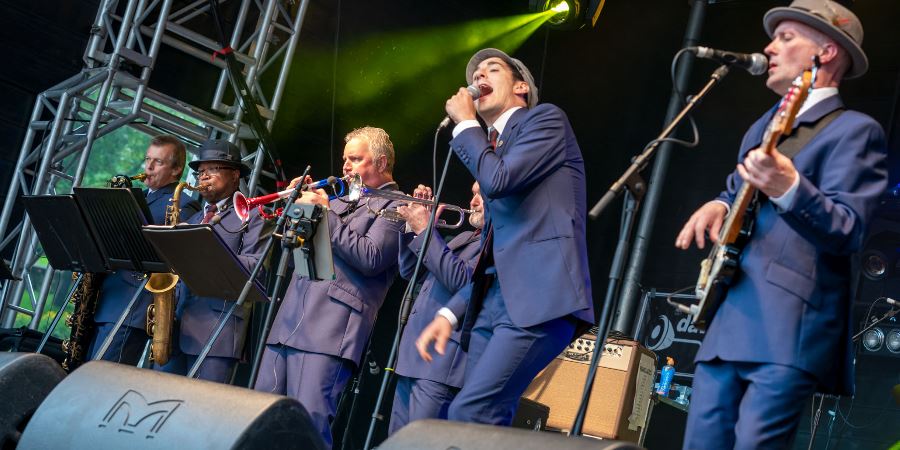 The Northern Soultrain performing at the 2019 Rochdale Feel Good Festival.
This leading northern soul band will be returning to the main stage after a triumphant crowd-pleasing debut in 2019. The Lancashire 9-piece have been filling dance floors and ballrooms for over a decade, playing iconic Northern Soul anthems from the likes of Wigan Casino, Twisted Wheel and Blackpool Mecca.
Fronted by David John Jaggs, the band have played sold-out shows at iconic venues including Blackpool Tower Ballroom, Manchester's Band on the Wall and Ascot Race Course. They got one of the biggest receptions of the year in 2019 and can't wait to be back, bringing their Northern Soul party to our main stage.
---
Sign Along With Us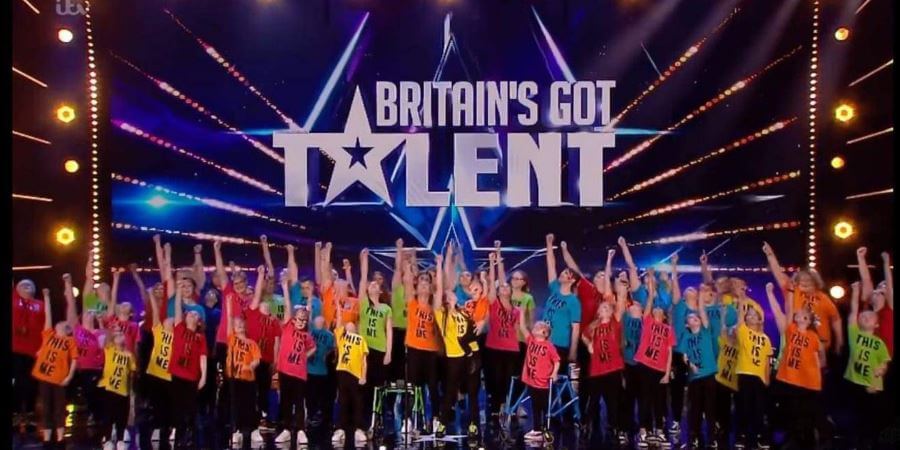 One of Britain's Got Talent's most memorable acts, Rochdale-based choir Sign Along With Us, runner-up on the ITV1 show in 2020 was created by local teenager Jade Kilduff after she started sign language classes to teach members of her local community to sign in a fun way through music, helping them communicate with her younger brother Christian.
The group grew rapidly and got a phenomenal response from the public and judges after entering Britain's Got Talent, making the grand final. Their uplifting and emotional performance of 'This Is Us,' has since racked up over 36 million views online.
Judge Amanda Holden said the choir "united everything great about Britain's Got Talent and Great Britain" and David Walliams famously hit the golden buzzer after their first appearance.
---
Abbie Ozard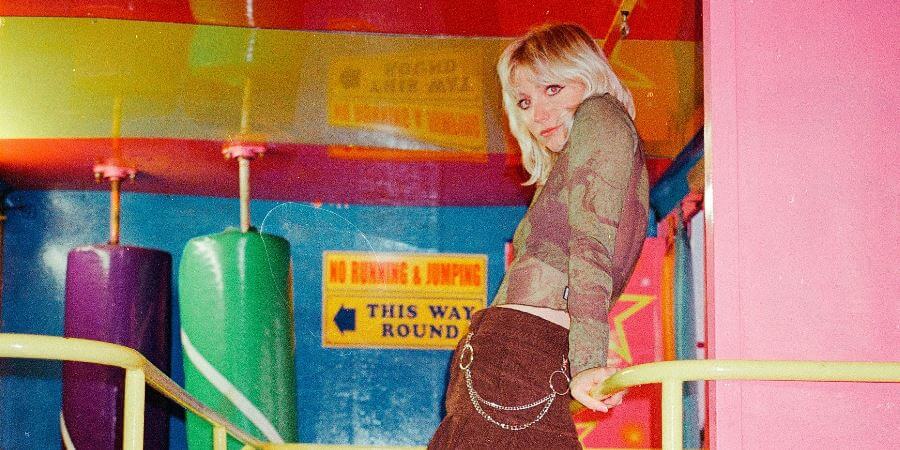 Abbie Ozard.
Hot new Manchester singer-songwriter Abbie Ozard is supported by BBC Introducing in Manchester and 6 Music. She's already received national airplay on Radio 1 as well as slots at major UK festivals. Her indie-pop edge, vocals and infectious hooks have generated a growing fan base.
Nominated as one of the UK's top new artists by the Indie Central Music Awards, Abbie's debut EP 'Growing Pains' was released in 2019 and has been streamed over 500,000 times so far.
---
HAiG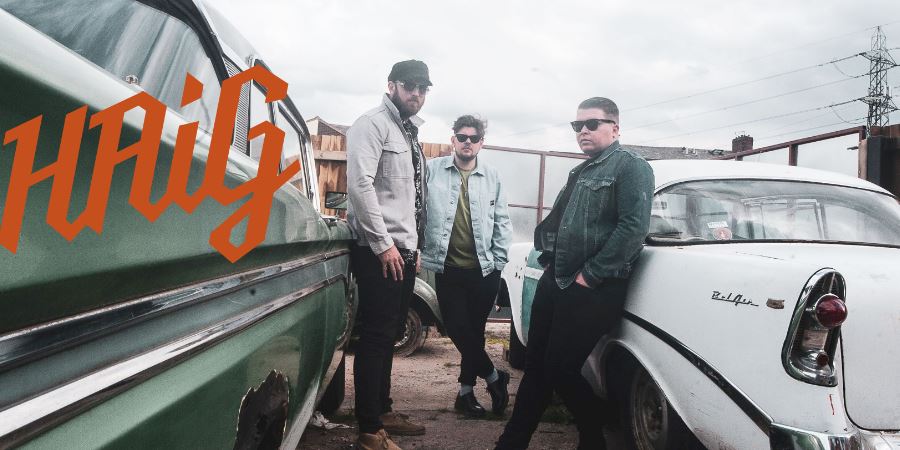 HAiG.
Comprising former Catfish and The Bottlemen founder Billy Bibby, Carl Forbes and Joe Money (former New York Tourists) HAiG are a band that explodes out the blocks like a giant confetti cannon spreading anthemic guitar hooks, haymaking drum and bass and beer-raising choruses. The band, who signed a worldwide record deal in 2019 have already played sold out shows across the north of England to a rapidly expanding fan base. Their debut EP 'Freeze the World' was released in 2020 and their debut album is due to be released in late 2022, promising rock and roll to make your ears tingle.
For now, the band are excited about getting back on the road, with a stack of gigs and festivals in the diary.
---
Aziz Ibrahim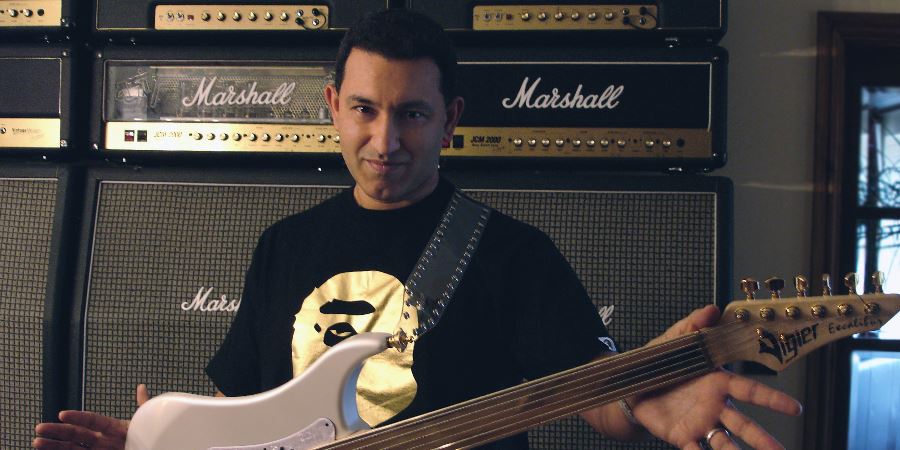 Aziz Ibrahim.
The influential multi-talented guitarist and singer/songwriter has performed with artists including the Stone Roses, Simply Red and Asia as well as co-writing and playing live with Ian Brown, Paul Weller, Rebel MC and Hot Chocolate.
With a stellar career spanning over 3 decades he's founded the Asian Blues Collective and toured with Pakistan based rock group 'Overload.' Aziz's solo work includes his acclaimed debut album telling the story of his family's journey from 'Lahore To Longsight', EP 'Middle Road' and album 'Rusholme Rock with Tabla maestro Dalbir Singh Rattan' all showcasing his unique blend of Desi GuitR and Asian Blues.
---
ENTT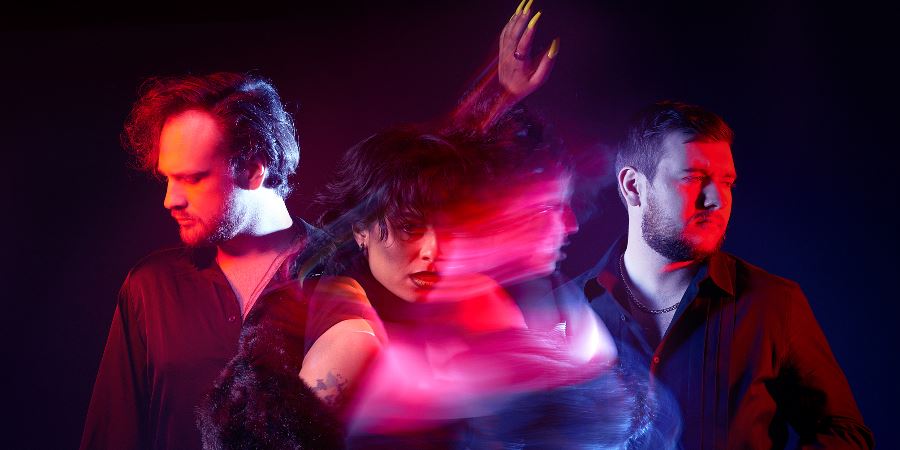 ENTT.
This alternative dance band draw inspiration from 80s electronic pioneers Depeche Mode and New Order, as well as alt-rock bands such as Arctic Monkeys and the White Stripes. The London-based trio mixes analogue synths, dance beats and alt-rock. Their latest EP 'Coepio' was released in February 2020 and has been described as "a bombastic, euphoric project, soaring to symphonic heights".
They've had tracks played on BBC London and performed at Islington's O2 Academy2.
---
Firewoodisland
Firewoodisland.
This indie-folk duo is the alias of Bristol-based Norwegian-Welsh multi-instrumentalists and songwriters Stian Vedoy and Abi Eleri. With emotive and dynamic vocal harmonies and a mix of digital and acoustic instruments, their music is atmospheric and euphoric.
Supported by BBC Introducing and 6 Music, the super talented pair have received a stack of glowing praise from the national music press and follow up their 2018 album 'Chaos is the State of Heart' with their 2nd album in spring 2020.
---
Dave Sweetmore - DJ
Dave is a regular commentator on the northwest music scene, always championing new bands and live music, and presents his own weekly radio show on Tameside Radio. He's won many accolades from the likes of Sky Sports and the BBC.
Described by the Manchester Evening News as 'an uncompromising trailblazer and Rochdale's answer to John Peel' he plays classic indie, 90s Britpop and Manchester bangers - in his words, "the best and coolest records ever made".
---
Further acts
To be announced.
---
Food and drink
We'll update this section when we have details about the food and drink line-up for 2022.
The Food and Drink Village next to the Town Hall will be open for elevenses, brunch, lunch, afternoon tea, dinner and supper.
Great food and drink is always a big part of the festival. In our Food and Drink Village, you'll be treated to exciting traders - delicious dishes to try from fantastic street food, pop-ups, bars and much more. Mouth-watering fayre from around the northwest. Listen to our live music, enjoy traditional family entertainment and soak up the atmosphere. There'll be meaty, vegetarian and vegan delights, as well as drinks.
Other activities
We'll update this section when we have details about the other activities at the festival in 2022.
Travel advice
Tram
The Rochdale Town Centre stop is only a one minute walk from the site. There are direct trams from Manchester city centre and all stops to East Didsbury.
Train
Rochdale Train Station is accessible from Manchester and Leeds. The festival is a short 10-minute walk from the train station, or hop on Metrolink which goes directly to the site.
Bus
Rochdale Transport Interchange is a 2-minute walk from the festival site.
By car
Festival parking in Rochdale town centre council car parks is free for the first 3 hours but you must display a ticket.
Some road closures and other road restrictions will need to be in place so we can run the festival safely.
By bicycle
By air
Manchester Airport is approximately 45 minutes away by train or car.
Frequently asked questions
Can I play at the 2022 festival?
The Feel Good – Battle of the Bands is our annual search for local acts to appear. The first prize is a 20-minute slot on the main stage. Information on the 2022 competition can be found above.
For other artist enquiries, email events@rochdale.gov.uk
Can I bring my own alcohol or non-alcoholic drinks?
You're not allowed to take alcohol into the festival, although you can purchase this on site. You can bring your own water and soft drinks in sealed plastic bottles no bigger than 500ml.
What time are the acts on the main stage?
Artist performance times will not be released before the event, although the running order and start times will be available on this website and in a printed programme available FREE on-site. Arrive early to see all the bands.
Can my company have a stand at the festival or in the market?
If you're interested in being involved in the 2022 festival, please email events@rochdale.gov.uk.
Can I bring my children to the festival?
Yes, there is no minimum age for attending the festival, however, our main stage area is not suitable for young children.
Everyone who attends will need to purchase a ticket. Performances may feature material, not suitable for young children, that we are unable to predict and classify due to the nature of a live performance. All under 18s must be accompanied by a parent or guardian at all times, unaccompanied under 18s will not be admitted. If an under 18-year-old leaves the main stage area, re-entry will only be permitted if accompanied by a parent or guardian. Parents or guardians are responsible for the behaviour of their under 18s. Rochdale Feel Good Festival operates the 'Challenge 25' policy.
If you lose a child, report this immediately to a festival steward.
Where to stay
You'll be spoilt for choice by our range of hotels, B&Bs (Bed and Breakfast) and self-catering establishments, offering everything from budget accommodation to 5-star luxury.
There are no camping facilities on site, but Hollingworth Lake Caravan Park is conveniently located, just 3 miles from the M62 and a 10-minute drive or taxi ride from the festival site. Space for tents, caravans and motorhomes from £15 per night.
Main stage sponsor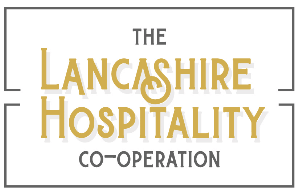 The main stage is sponsored by the Lancashire Hospitality Co-operation.
Digital media partner

Our digital media partner is Premier Kia.
Official partners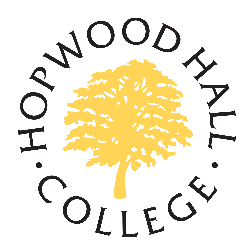 Hopwood Hall College is an official partner.

The Royal Roby Hotel is an official partner.
Event organiser
Rochdale Borough Council.
Disclaimer
Events and activities are not organised by Rochdale Borough Council unless stated otherwise. Neither is Rochdale Borough Council responsible for the accuracy of the information provided. If you are under 18, ask your parent/guardian before taking part in any event or activity.