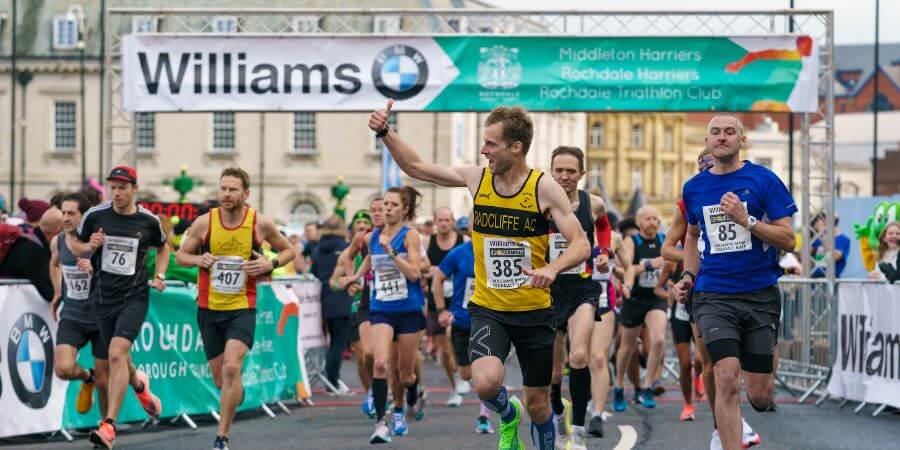 About this event
The Williams BMW Rochdale​​​ Half Marathon, 10K and 1 mile Fun Run returns for its 7th year and registration is now open with an early bird discount.
About the 2023 races
The event is one of the highlights of our sporting calendar and has already raised tens of thousands of pounds for local and national charities.
Whichever run you choose, you'll be starting and finishing on The Esplanade, near the stunning Rochdale Town Hall, one of the finest buildings in Europe.
Our traffic-free courses retain an exciting and varied feel, taking you on a tour of our historic town and breathtaking countryside.
All courses will be fully marshalled, traffic-free, signed and have water stations at regular intervals. All runs are chip timed. There'll be a medal for completing the half marathon, 10K and fun run. The fun run is suitable for all the family – you can walk, jog, skip, or even wear fancy dress.
The event is sponsored by leading prestige motor dealer Williams BMW Rochdale.
Corporate entries​
Our corporate package enables ​​a company to pay for and administer entries for their staff.
For every 10 entries, you'll also get a free place. Running alongside your workmates can be a lot of fun and this is a great way to inspire a workplace, set a challenge and motivate employees to be active and take part in this great event.
Elite runner entries
​We're happy to offer free entry to athletes who achieved, and can prove, the following times in 2022:
Marathon: under 2 hours 35 minutes for men and under 2 hours 55 minutes for women.
Half Marathon: under 1 hour 12 minutes for men and under 1 hour 23 minutes for women.
10K: under 32 minutes for men and under 38 minutes for women.
Please email evidence of your times to events@rochdale.gov.uk.
Half Marathon route and costs
Non-club runners: £34.50 £29 early bird discount
Club runners: £32 £27 early bird discount
Official 2023 recycled cool t-shirt (optional) : £14 – you can order this along with your entry
Race start time: 10.45am
Minimum age: 17 years old on Sunday, 8 October 2023.
The half marathon leaves along The Esplanade and runs the edge of Broadfield Park, before heading through Deeplish to the Rochdale Canal at Oldham Road Basin. The route then heads past Kingsway Business Park and Smithy Bridge along the canal. Close to the Waterside Restaurant the route leaves the towpath and heads up Hollingworth Road towards Hollingworth Lake, making a clockwise loop of the lake. It then returns down Hollingworth Road and back onto the canal.
The race retraces its outward route from the town hall until it reaches Broadfield Park, where runners will go through the park, making a loop of the bandstand before re-joining The Esplanade for the final sprint to the finish line.
Register for the Williams BMW Rochdale Half Marathon
10K route and costs
Non-club runners: £22 £19 early bird discount
Club runners: £19 £15 early bird discount
Official 2023 recycled cool t-shirt (optional): £14 – you can order this along with your entry
Race start time: 11.05am
Minimum age: 16 years old on Sunday, 8 October 2023.
Starting on The Esplanade, the route turns on to the path running alongside Manchester Road until it gets to St. Alban's Street, where it turns left. In a small change to previous years continue along St. Alban's Street to turn left into Broadfield Park for a clockwise loop around the bandstand, before turning back on to St. Alban's Street and left on to Broadfield Stile. Cross Drake Street and follow Mere Street to a left turn on to Tweedale Street, then right on to Milkstone Road, under the railway bridge and then left on to Miall Street and an immediate right on to Durham Street. At the end of Durham Street, cross Oldham Road and join Rochdale Canal.
At Kingsway, the route leaves the canal by a swing bridge and follows a cycle path to Michael Faraday Avenue. In another variation to the normal route, turn left and do a loop out and back along Michael Faraday Avenue before continuing along Michael Faraday Avenue towards Sir Isaac Newton Way, again completing an out and back to close to the junction with the other end of Michael Faraday Avenue. Back at the cycle path coming off Michael Faraday Avenue, retrace the route back to the canal and then Oldham Road, passing under Oldham Road on the return. The route is then retraced to Broadfield Park, where an anticlockwise circuit of the bandstand is completed before a run through the park, past the statue of John Bright and on to the finish on The Esplanade.
Register for the Williams BMW Rochdale 10K
Fun Run route and costs
Entry price: £7
Official 2023 recycled cool t-shirt (optional): £12 – you can order this along with your entry
Race start time: 10am
Minimum age: 4 years old on Sunday, 8 October 2023.
A stunning course and lots of fun. The Williams BMW Fun Run is suitable for all the family, whether you're raising money for a worthwhile cause, remembering a loved one or simply keeping active. Mums, dads, toddlers, groups running together, fancy dress, music and fabulous fun!!
The 1-mile route sets out from Rochdale Town Hall and up into the beautiful Broadfield Park, taking a very scenic route around the award-winning historic grounds. There's a steep challenging climb up past the John Bright statue before entering the park. While the rest of the course climbs gradually, once you reach the bandstand it's all downhill to The Esplanade for the return to the finish line at the town hall.
The route has a total ascent of 13.46 metres and a maximum elevation of 147.53 metres.
Registration for the Williams BMW Fun Run opens on Saturday, 1 April 2023.
Video of the routes
View the routes for the 2021 half marathon and 10K. Whether you're running or spectating, it's a great tour of historic Rochdale and some stunning countryside.
We can't wait to see you on the start line on Sunday, 8 October 2023.
We'll link to the 2023 video here when available.
Your race number
You'll be able to collect your race number the day before the event or on the morning of the event. We'll announce full details later in 2023 and will also email all registered entrants with this information.
Terms and conditions for taking part in a race
There'll be a cut-off time of 3 hours for completion from the start of the half marathon.​
For your own safety, the safety of other runners and members of the public, the wearing of head or earphones or similar devices is not permitted in this event. Automatic disqualification from race results may follow for any competitors ignoring this instruction.
Raise money for charity
Our official charities for 2023 will be:
You're welcome to raise money for any other charity or cause of your choice and you can easily set up a web page to collect your donations through websites including:
Tips for fundraising
Many BMW Williams Rochdale Half Marathon, 10K and Fun Run participants run for a good cause. Running for charity can give you that extra motivation for your training and also on the day itself. You'll also notice the extra encouragement you'll receive from spectators.
As your training begins and you start your charity fundraising, here are some tips to help you raise lots of money:
Set up an online fundraising page early. Setting up a page as soon as you register will help you raise hundreds of pounds more than someone who leaves it all to the last few weeks.
Set a fundraising target.
Be social media savvy - using social media channels are a great opportunity to maximise fundraising potential.
Download a fundraising app to your mobile phone. This will make it much easier to collect donations wherever you are.
Temporary road closures
For safety reasons, some road closures will be in place on Sunday, 8 October 2023 between 10am–2pm. Motorists are advised to make alternative arrangements in advance if they need to exit any of the closed areas by car on the day.
Plans will be put in place for access by the emergency services.
We'll publish details of road closures at least 3 months before the event.
Stay up-to-date and share through social media
Stay updated and share your comments and feedback on Twitter @RochdaleHalf, the event's Facebook page or Instagram.
Previous events
View photos, results and more from the previous event.
Read what others had to say
Read testimonials about the Williams BMW Rochdale Half Marathon and 10K.
"Really enjoyed it".

"Enjoyed the occasion".

"Great - very well organised".

"Well run, excellent course".

"Well marshalled with good support".

"A very well organised event, showing the best of our town. Lots of highly supportive marshals".

"The best of the local runs, really good course, great finish".

"Really enjoyed it, well organised, marshalled and great course".

"Fantastic, great organisation and support".

"Well organised, excellent ambience. Really nice for local food and drink outlets to contribute. Free car parking was good".

"Excellent, well organised".

"Brilliant, well organised, good t-shirt, medal and good course".

"Very well organised, thoroughly enjoyed the event".

"Brilliant marshals on the route and the road closures make it such a great event".

"Loved it - well organised, lovely route and marshals, nice medal too".

"Good scenic route".

"Well organised".

"Really good atmosphere".

"Loved it".

"Lively atmosphere in front of the town hall thanks to announcer Dave Sweetmore".

"Superb, great route and organisation".

"Loved the route along the canal and around the lake".

"Very family-friendly".

"Fantastic".

"Well organised, good crowd".

"Fantastic. Course was great and lovely to get into the countryside. Everyone was very friendly and brilliantly organised so not too much hanging around".

"Brilliant event, well organised and lovely route".

"Well organised, nice scenic course. Fantastic marshals".

"Well organised event and priced appropriately".

"Really enjoyed it - beautiful route, really well organised, lots of helpful information beforehand, great atmosphere on the day".

"Excellent. Well organised. Scenic route. Fantastic volunteers, especially at the water breaks".

"I thoroughly enjoyed the half marathon. My first for 20 years. Organisation was good. Car parking, bag drop and marshalling were excellent. Time keeping was spot on".

"I enjoyed completing my local 10K. To date, it has been my favourite 10K. I thought the atmosphere was great starting after hearing the chimes from the town hall. The route was scenic unlike Salford 10K and We Love Manchester 10K. I will be running it again next year. The bag drop and picking up your numbers was very well managed, basically I loved the event".

"I thought the event was extremely well organised with lots of helpful and friendly marshals along the route. Although the start and first half mile were fairly narrow and cramped, the course then opened up and was really good. I enjoyed running along the canal and around Hollingworth Lake. A much-improved route than 2015 when I last ran Rochdale and I hope the course stays the same for next year".

"Can't wait for the next one. The event showcased Rochdale, my town, I loved it. Organisation and Marshalls were excellent. Atmosphere was great especially with the long open run to the finish in front of the Town Hall. Race start and finish banners and time displays looked professional. Great to have prestigious brand BMW as sponsors, with their stand showcasing their cars. T-shirt great. Rochdale AFC involved the kids with their penalty shoot-out. Area in front of town hall looked great. Sports physios looked to be very popular. Dave Sweetmore provided great music".

"Very well organised. The fun run event was fantastic for the kids and very good value for money".

"Well organised, support around the HM course was encouraging, nice touch to include young children handing to hand out water. Lots of volunteers helping out. Parking in the college was a big plus. Free photos of the event to share is nice. Daughters have asked can they take part again next year".
Thank you to our event sponsors and supporters
The event is sponsored by leading prestige motor retail centre, Williams BMW Rochdale.
The event is supported by footwear, clothing and accessories retailer Up and Running.
Clinical experts from Rochdale's Sports Physio UK will be providing professional advice and sports massage on the day, as well as pre and post-race support.
Event organiser
Rochdale Borough Council
Disclaimer
Events and activities are not organised by Rochdale Borough Council unless stated otherwise. Neither is Rochdale Borough Council responsible for the accuracy of the information provided. If you are under 18, ask your parent/guardian before taking part in any event or activity.