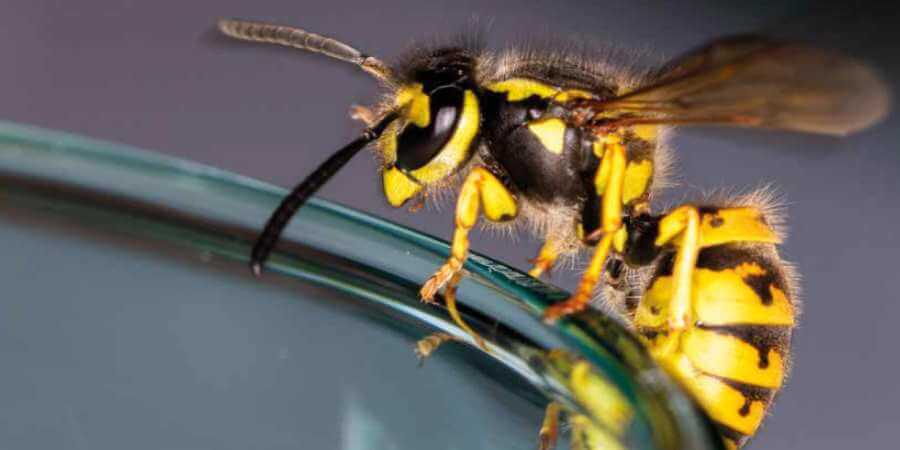 Wasps are mainly known for causing a nuisance, especially in the autumn.
The combination of cooler weather and a diet of fermenting fruit juices make them irritable, and more likely to sting.
Book pest control treatment for wasps
We offer domestic and commercial pest control treatment for wasps. We use extendible lances to treat wasp nests when they're located at height.
In rare cases, we might not be able to reach a wasp nest because of how a building is constructed. Our Pest Control Officers use ladders to access a work area like a loft or cellar, but they don't work from the ladder.
To book treatment:
Check our pest control treatment prices.
Call us to arrange a call-out or to book treatment.
Call 0300 303 8871 to book a pest control treatment
What do wasps look like?
There are several species of social wasps found in this country but they're all similar in appearance.
Most wasps are bright yellow and black and are around 10-20mm in length. The hornet is somewhat larger and has yellow and brown colouring.
They have a very slim waist and are a lot less hairy than bees.
Are wasps dangerous to my health?
Wasps have a sting which they normally use for killing prey. However, they'll also use them to defend themselves and their nest.
Unlike bees, wasps can sting repeatedly. They can be very painful but are not normally dangerous unless you're stung by large numbers of wasps.
Some people are sensitive to stings and may suffer severe, sometimes life-threatening allergic reactions. If a victim of a wasp sting becomes pale and feels unwell with giddiness or nausea, seek medical attention immediately.
Where can wasp nests be found?
Wasp nests are normally found in holes in the ground or inside hollow trees.
Unfortunately, wasps will also make their nests in garden sheds or in cavity walls, eaves and roof spaces of houses.
Queen wasps start the process of building a nest, but are taken over by worker wasps once they emerge.
The number of wasps and the size of the nest will keep increasing all through the summer. Activity will drop off in autumn and the new queens will hibernate in winter.
Old nests are never reused.
How to control or treat wasps
Getting access to the wasp's paper nest is key to gaining control of the problem. However, getting access wasps nests is sometimes difficult.
A residual chemical application would need to be applied in or around the nest.