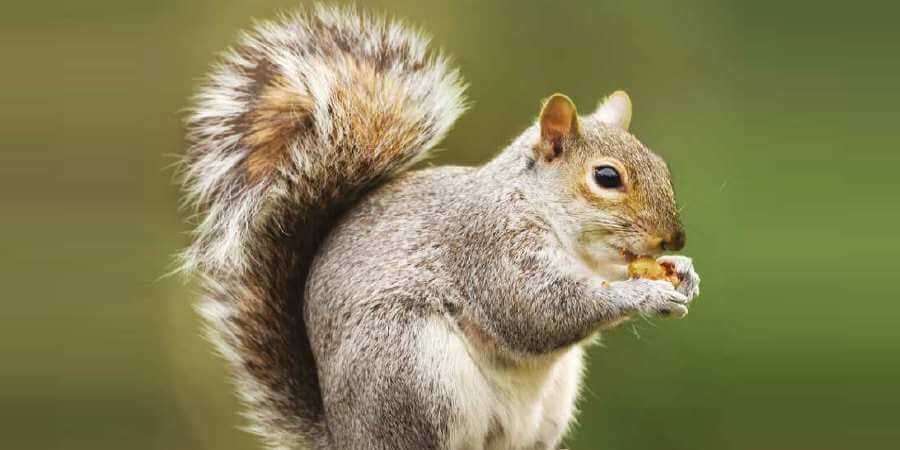 The grey squirrel was introduced to the UK from the USA between 1876-1929. It's now the most common squirrel found in the UK.
The average life span is 2 years and they're sexually mature between 10-12 months. In optimum conditions, female grey squirrels produce 3 or 4 litters, each containing 1-8 kittens.
Grey squirrels will eat acorns, beech mast, tree shoots, flowers, nuts, fruit, roots and cereals. They've also been known to eat insects and bird eggs. Squirrels can hoard surplus nuts, masts and cones.
What do grey squirrels look like?
While it's known as the grey squirrel, its coat may become brown in summer.
The grey squirrel doesn't have large ear tufts, unlike the red squirrel.
Problems caused by grey squirrels
Squirrels are often seen as attractive wild animals. However, when they live in domestic properties they can be considered as pests.
If they get into a roof space, they can cause damage to roof timbers, electrical wiring and plumbing by gnawing on them. They can also cause quite a lot of noise.
They'll strip bark from trees to get to the sappy tissues, which causes damage to the tree.
How to control or treat grey squirrels
You may be able to resolve the problem yourself if you know how the squirrel is gaining access to your property. This can sometimes be through a neighbour's property.
The entry point will need to be blocked when the squirrel is out of the building to prevent it from getting back in.
The easiest way to do this is to monitor the squirrel's activity. When the squirrel is out looking for food, you can block its access to get back inside.