This Ukraine appeal is run by the Rochdale Giving Back charity and Rochdale Borough Council is not responsible for the collection or distribution of the funds collected.
Since the beginning of the conflict in Ukraine, the Rochdale Giving Back charity has been collecting donations to raise money for medical aid at a children's hospital in Lviv.
Rochdale and Lviv towns were twinned in 1992 and a bridge over the river Roch in Rochdale town centre is named after the city.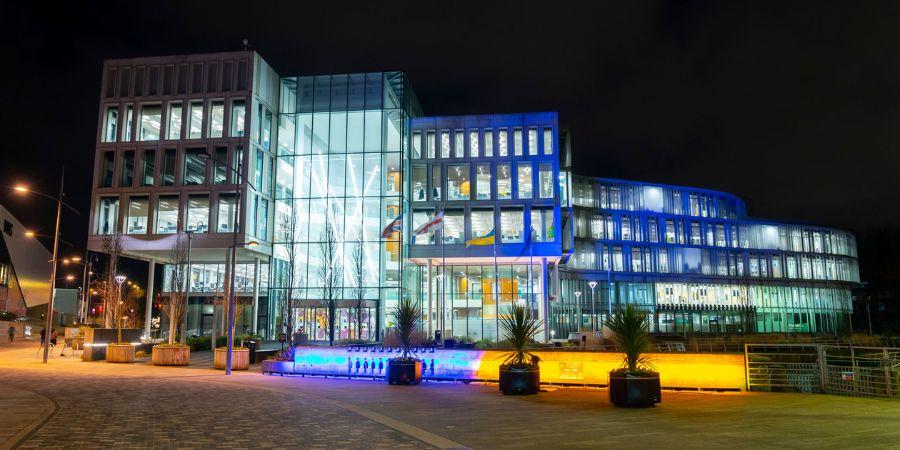 Number One Riverside lit up in the colours of the Ukrainian national flag.
How Rochdale Giving Back is supporting the Ukrainian community
Since the Russian invasion of Ukraine, people in the borough of Rochdale have been generously supporting the local Ukrainian community in getting aid over to Ukraine.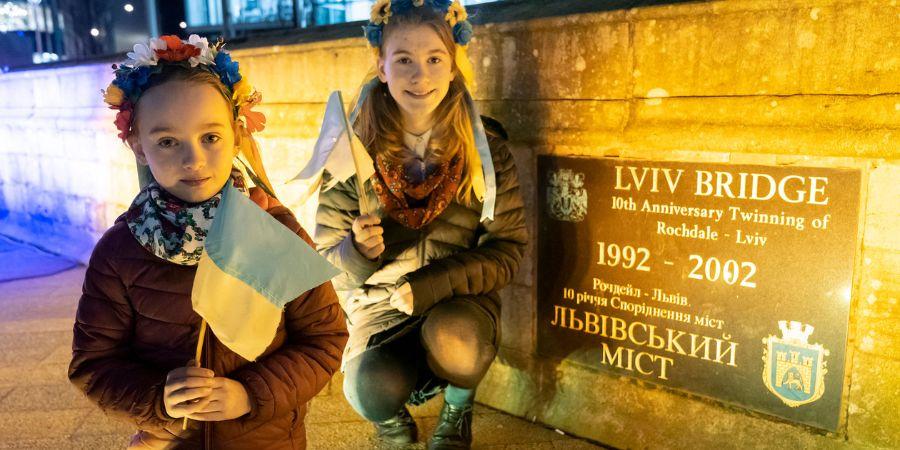 School children have sent thousands of letters of love and support to children in Lviv.
Michael Buczman, who works in Rochdale Borough Council's environmental management team and is connected to Ukraine and Lviv through his own family history, has reached out to St Nicholas the First Children's Hospital in Lviv. The hospital faces a traumatic situation every day and need medical supplies to help children with ongoing conditions and countless other children who have made their way from the east of the country who need help after being injured from missile strikes.
As Lviv is seen as a safer part of Ukraine many families and children who have been displaced from areas like Mariupol, Sievierodonetsk and Kharkiv have fled to Lviv and the hospital is overwhelmed. Medical staff have remained at the hospital but need support from the international community to continue their work.
Michael has teamed up with Rochdale Borough Council's staff charity, Rochdale Giving Back, to raise money for medical aid at the children's hospital.
About 20,000 children a year need an MRI scan in Ukraine. It helps doctors assess conditions with the brain and spinal cord as well as the liver, kidney, peripheral nerves and joints and scans of pregnant women. It's a vital piece of equipment in detecting early signs of illness and can save lives.
Before the war, 1,000 children a year in Lviv needed regular access to an MRI scan for neurological conditions.
Ukrainians in the borough of Rochdale
The borough is home to a large, passionate Ukrainian community who settled here after World War 2 seeking refuge after years of oppression under the Nazi regime and decades of oppression under Joseph Stalin and the Soviet Union.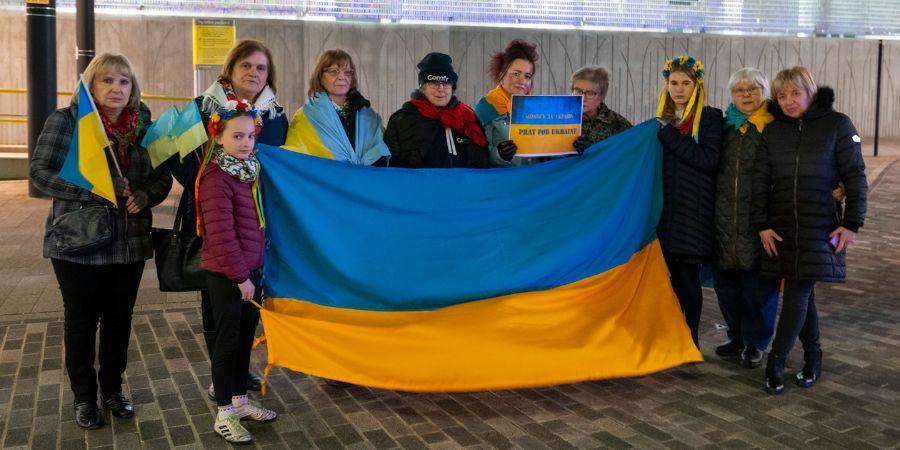 The majority of Ukrainians who made their way to Rochdale originally came from Lviv.
How to donate
Donations can be made to the Rochdale Giving Back account:
Account name: Number One Riverside Giving Back
Account number: 65703850
Sort code: 08-92-99
Please add 'Ukraine Appeal' as the reference.
Thank you for your support.
Find out more
Direct Relief has been following the work of the hospital through the war.