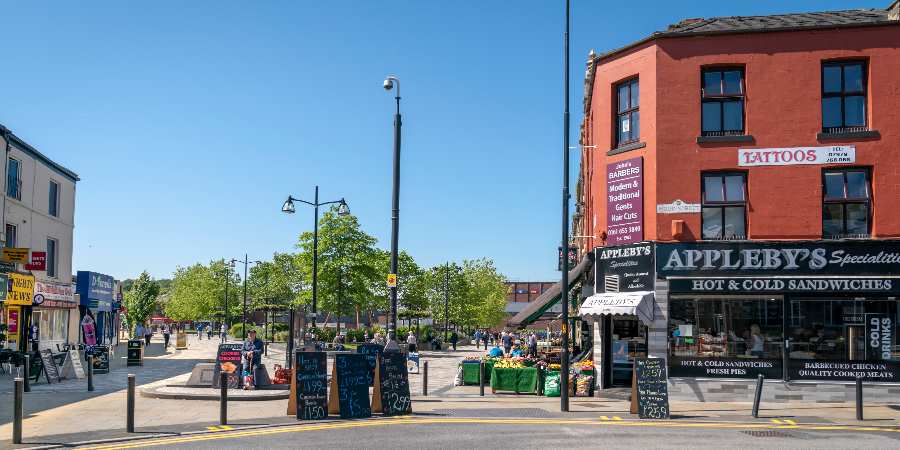 Leader of the council's blog: Friday, 19 May 2023
With the dust now settling on this year's local elections, I want to extend my gratitude to everyone who helped make this crucial democratic occasion possible. I give particular thanks to the council's election team, returning officers, counters, volunteers and many others who played their part. Across our borough, we had 100 polling stations open for voting and, this year, there was the additional challenge of the new voter identification legislation. It was a challenge to which our teams rose magnificently.
I would also like to thank everyone who took their time to cast a vote, which is a sacred right that past generations fought and died for and something we should never take for granted. On a personal level, I would also like to say a heartfelt thank you to the residents of my West Middleton ward who, once again, placed their trust in me. I am truly humbled to have been re-elected to represent such a diverse, vibrant and thriving community and my commitment to you and to all the other great people of our borough remains absolutely irrevocable.
This will be my third year as your leader and, over the next 12 months, I want to build on our many success stories. There are 3 key areas I will be prioritising – continue our ambitious regeneration projects across the borough, provide a further helping hand with your cost of living, and to continue providing high-quality, value for money services.
Regenerating our borough
Our work in this area includes the continued regeneration of Middleton, Heywood and Pennines through our new town centre masterplans, the Rochdale town centre Upperbanks scheme, which will provide 242 apartments and a 146-bed Hampton by Hilton hotel, and the restoration of Rochdale Town Hall. In addition, as leader of the council, I have been at the forefront of efforts to bring Levelling Up funds to our borough. As such, I was delighted we were selected to be one of 20 new Levelling Up Partnerships. Along with the increased devolution deal for Greater Manchester and a new investment zone being focused around our Atom Valley project, there is untapped potential to make a real and lasting difference for our borough underlining that we really mean business.
There will also be over £8.5 million to be invested into arts and culture in the borough over the next 3 years, through Arts Council England funding. We are working on pioneering plans for Touchstones, the borough's arts and heritage venue and Heywood Civic Centre. I am pleased to see the teams in place now who will be helping deliver these exciting upgrades.
Cost of living support
As the cost of living crisis continues to bite and with high inflation sticking and interest rates continuing to rise, I want to reassure residents that our Helping Hand package of support will remain in place over the next 12 months. We will again be providing food vouchers during the school holidays, benefitting over 13,000 households, continuing to offer over 40 warm space venues, and ensuring residents continue to be supported through the household support fund, meaning thousands of residents can save money on their energy bills.
I will also be pulling out all the stops to support every household in the borough with a further two per cent Council Tax discount. I know from speaking with residents how much they appreciated this vital help with their cost of living. I will be prioritising this initiative in next year's council budget.
High quality, value-for-money services
My other key priority is to build on our proud record of delivering high quality, value-for-money services. I have always said that our residents want bread and butter services delivered on time, with the minimum of fuss, but the maximum impact. This means providing innovative care services for older and vulnerable residents, keeping our many beautiful Green Flag award parks tidy, pavements clean, repairing our roads, removing fly-tipping and fixing potholes. It doesn't happen by accident. It is down to a fantastic team of council staff, community groups and volunteers who, day in day out, keep our borough looking clean and green.
Once again, we will do everything in our power to achieve success at the In Bloom awards. Last year we were delighted that Royal Horticultural Society (RHS) judges voted Rochdale as the best small city in the UK and the best in the category. We will be aiming for more awards in 2023.
I came into politics, with the flame of hope burning inside me, to build a fairer, more equal society. There is no doubt that times are tough, which is why I am providing a helping hand with your cost of living, through initiatives like the council tax discount. I am passionate about making our borough an even better place to live, work and grow up in. We are a tolerant, welcoming, friendly community which is at ease with itself, proud of its past and confident of its future. I want to see us not just survive, but thrive, and, with a council on your side, I will repay the trust you have placed in me to build a better borough. Let the work continue.
Councillor Neil Emmott
Leader of Rochdale Borough Council