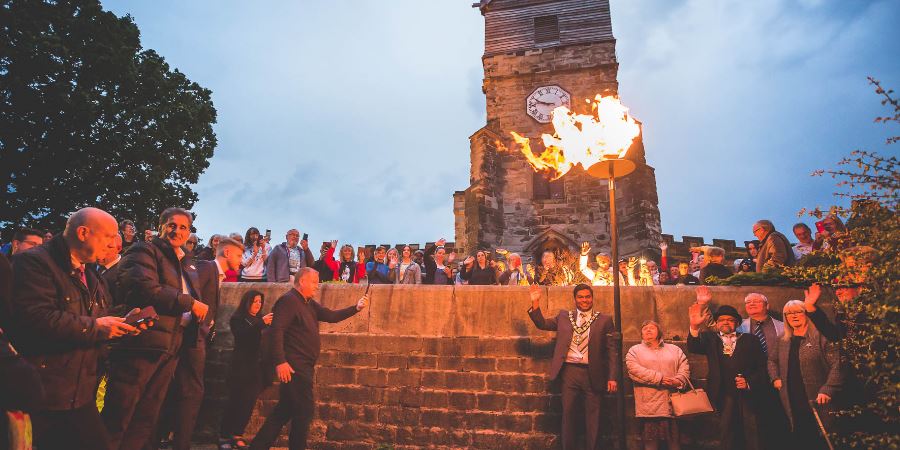 Leader of the council's blog: Friday, 24 June 2022
National Co-op Fortnight is underway and, as you'd expect of the place that gave birth to co-operation, it's something we are proudly marking in our borough. The co-operative movement has seen many changes but the cornerstone of those founding principles are as relevant today as they were 150 years ago. Indeed, with a national cost of living crisis really beginning to bite, the values and vision of co-operation have never been as important.
The world changes, but the very essence of what a decent society should look like never fades. In 1844 the movement wanted to provide affordable food and provisions for residents, using any surplus to benefit the community. Today, similar challenges face us. Our residents are faced with food price hikes, a low-growth economy, wage freezes, high inflation and petrol price increases that are threatening the livelihood of small businesses, haulage firms, taxi drivers and many others. Residents in my West Middleton ward and across the borough regularly tell of their despair at this national crisis.
That's why we put an extra £1 million into the £3 million household support fund to help our residents with their energy bills, food shopping and other essential items. Across our borough, our vision of co-operation is delivering for the community. The excellent Lighthouse Project in Middleton; the work of the voluntary sector; our innovative solution to ensure residents in College Bank could access wifi; our delivery of the coronavirus (COVID-19) vaccination, and much more. So, let's mark Co-op Fortnight by recognising those who started the movement, but by applying those traditional values in a modern setting. We have a lot to thank our Rochdale pioneers for, and the greatest respect we can give them is to continue using our timeless co-operative vision, as we always have done – making our borough a proud place where everyone is given the opportunity to realise their potential.
l would also like to take this opportunity to acknowledge the 25,000 carers of all ages we have across our borough. Last week, National Carers' Week was the chance not just to thank them for everything they do, but to come together at events to recognise the support and care they give to loved ones, friends and neighbours throughout the year. They really are some of the unsung heroes of our community. The week was marked with afternoon teas, walks, wellbeing sessions, games and a celebration of a decade of the carers' choir. It was a chance for everyone to come together, united in the care and support they provide, and make some memories. A big thanks to everyone who made it another Carers' Week to remember.
I regularly talk about my priority of delivering good quality public affordable for our residents. I'd like to end my column with a round-up of good news stories and fine examples of high-quality value for money services being delivered by your council.
It was lovely to see so many residents enjoying some time off for the recent Queen's Platinum Jubilee, with the borough coming together to mark the occasion. Our teams did a superb job creating beautiful floral displays across the borough for the occasion, making our parks and town centres bloom in celebration. One of these displays can be seen at Jubilee Park in Middleton, where we held a special event as a beacon (one of more than 2,000 across the UK) lit by our mayor, Councillor Ali Ahmed, burned brightly and poignantly against the night sky.
It was also wonderful to see so many people attend the recent 1940s day in Heywood, which was a welcome return after 2 years away. There was much praise for the street cleansing teams, who ensured the town was ready to welcome the influx of visitors. Well done to everyone who has played their part.
We also saw the return of the Street Eat festival, bringing huge crowds to Rochdale town centre, as over 2,500 tucked into a regal helping of food, drink, family entertainment and live music. It was fantastic to see so many of you supporting our local businesses and the local economy. I was also delighted to hear that Heywood Civic Centre is getting a big financial boost with a £696,000 grant from Arts Council England. The money will see the centre get new physical and digital infrastructure, improving access and much more. A wonderful initiative.
That's just a selection from our wide-ranging menu of service delivery for our residents. There are many positive things going on across all parts of the borough and much to look forward to over the coming weeks.