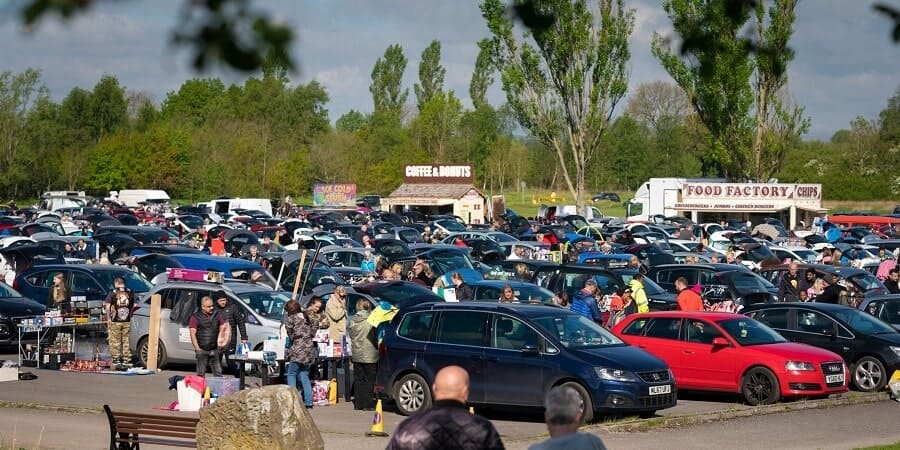 About this event
One of Greater Manchester's most popular outdoor car boot events.
The Bowlee Car Boot Sale and Market has now finished for 2022. We'll update this page as soon as we have details of the next markets.
If it's time for a de-clutter, you can easily offload your unwanted possessions in exchange for cash, or explore and bag yourself a bargain. There's a huge range of goods available at one of Greater Manchester's most popular outdoor car boot events.
Because it's run by us, you can be sure we've done all the right checks so you know you're buying and selling in a legal, safe environment.
If you cannot see the video you may need to enable cookies. You can also watch Bowlee Car Boot Sale and Market video on YouTube (00:00:42)
2023 car boot sale dates
We'll post the 2023 car boot sale dates here when we have them.
Check for cancellations and keep up-to-date
We want the day to be a great experience for both buyers and sellers so we keep a close eye on the weather. In the event of a poor forecast, we'll cancel on the evening before the sale. If bad weather is forecast, we'll aim to announce the cancellation by 6pm the day before.
Selling items
No need to book. Just turn up and pay at the gate.
Prices for selling:
Cars: £15
Estate vehicles, small vans, people carriers, 4x4s: £20
Large transit van upwards: £25
We do let sellers onto the site before the buyers and we allow as much time as we can before letting buyers enter the site. However, when the event is very busy we need to reduce congestion and queues by allowing vehicles into the buyers' car park.
Please note, sellers must take all their rubbish home when leaving the site.
Buying items
There's a drop-off and pick-up point for buyers near the entrance to speed up access.
Buyer's parking
Please use the onsite car park, which costs £2.50 per vehicle. If you can, please bring the exact change to pay at the gate.
There's a residents-only parking scheme for permit holders around Latrigg Crescent and the surrounding area. This will be in force throughout the duration of each sale.
Please do not park in front of driveways. Use the official onsite car park or you could be issued with a fine.
Get in touch
If you can't find the answer to your question, or if you've got an idea or would like to give us feedback about the event, email environmental.management@rochdale.gov.uk or call 0300 303 8884.
Event organiser
Rochdale Borough Council.
Disclaimer
Events and activities are not organised by Rochdale Borough Council unless stated otherwise. Neither is Rochdale Borough Council responsible for the accuracy of the information provided. If you are under 18, ask your parent/guardian before taking part in any event or activity.