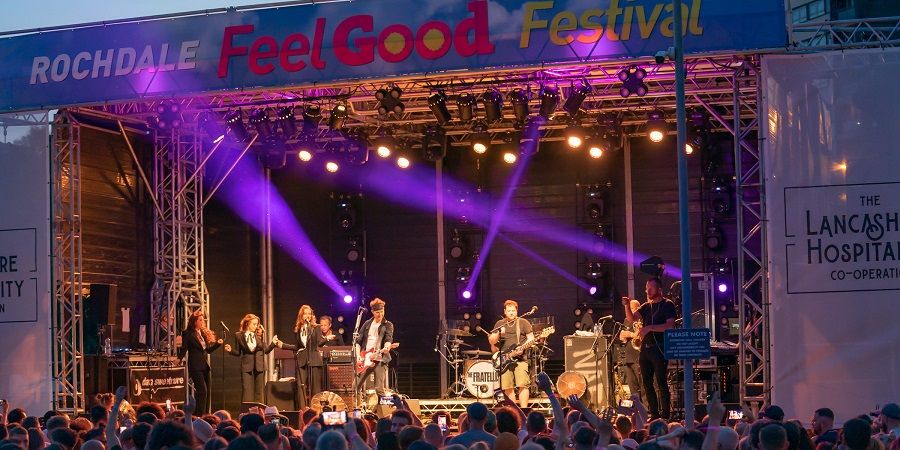 Thousands packed Rochdale town centre on Saturday, 14 August 2022 for the return of Rochdale Feel Good Festival.
After a 3-year wait, the town centre was filled with a feast of music, food and entertainment in the summer sunshine for the 13th year of the Rochdale Borough Council organised event, headlined by indie rock band The Fratellis.
With Rochdale basking in temperatures of over 30 degrees celsius for most of the day, the town centre was busy from early afternoon, with large crowds gathering at the main stage.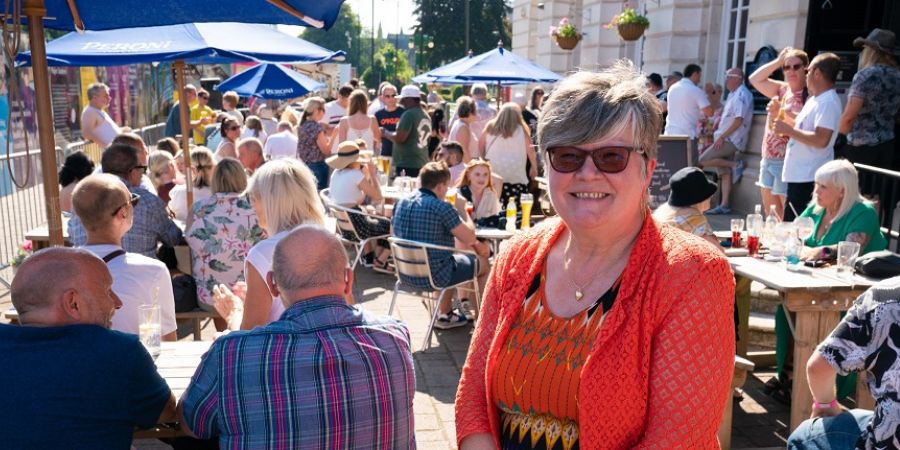 Councillor Janet Emsley, cabinet member for events at Rochdale Borough Council, at The Medicine Tap for Between The Vines.
'One that we'll never forget'
Councillor Janet Emsley, cabinet member for events at Rochdale Borough Council, said:
"It was great to see so many people having such a good time and I was pleased to see this popular event finally return. It was always going to be a special day, but with the hot weather, I'm sure this is one that we'll never forget.
"Town was very busy all day, we had visitors from right across the UK, some visiting Rochdale for the first time, and I saw so many smiles. I'd like to say a huge thank you to everyone who came for making this festival a success, our partners who helped deliver it so well and our wonderful volunteers who looked after everyone.
"It was a massive team effort and with the heat and having our main stage over at Hopwood Hall College there were added challenges, but I think it worked well and the early feedback we've had has been positive. We're going to be carrying out a thorough evaluation in the next few weeks."
Festival goers enjoying the return of Rochdale Feel Good Festival.
At lunchtime the festival kicked off with Gav Law at The Empire, swiftly followed by country rock 4-piece Between The Vines taking to the outdoor stage at The Medicine Tap which drew a capacity crowd.
Later the main stage (sponsored by The Lancashire Hospitality Co-operation and hosted by DJ Dave Sweetmore) was opened by local group The Sprats, who won this year's 'Feel Good - Battle of the Bands' competition.
They were followed by an electrifying set from London-based dance act ENTT, mixing 80s electronic sounds with alt-rock and their own distinct style.
Indie/folk duo Firewoodisland brought the tempo down a little, with a euphoric performance from Bristol-based Norweigian-Welsh multi-instrumentalists and songwriters Stian Vedoy and Abi Eleri.
Next was Aziz Ibrahim. Well known as the last guitarist of The Stone Roses and as Ian Brown's guitarist, the renowned 'lord of the strings' treated the crowd to a mix of his solo work and collaborations, including a version of the indie-dance classic 'Fool's Gold'.
Rochdale's Britain's Got Talent finalists became the first choir ever to sign on the festival's main stage, performing 'The Climb' in front of a packed crowd before an emotional rendition of their signature 'This Is Me'.
They were a tough act to follow, but Manchester's rising star Abbie Ozard managed it admirably, with her cool indie pop getting a great reception in the summer sunshine.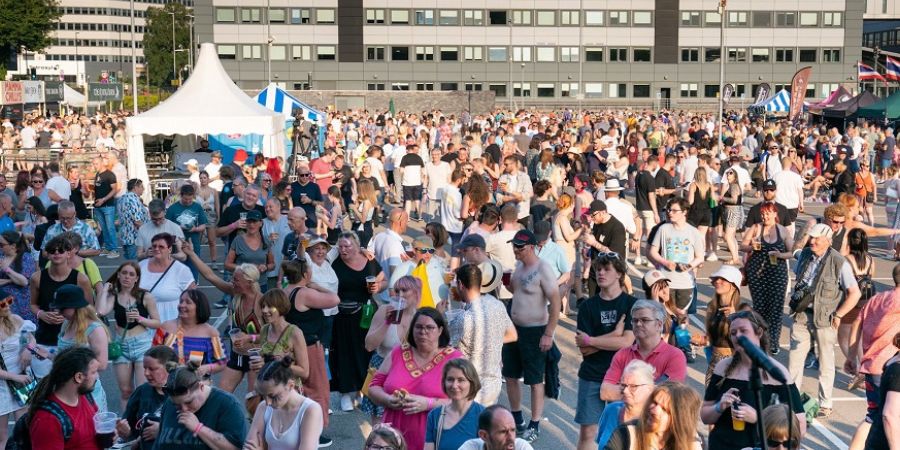 Next up was a change in musical style as Northern soul maestros The Northern SoulTrain, fronted by David John Jaggs returned after a triumphant debut in 2019. They treated the crowd to another set packed with anthems including Everlasting Love, Open The Door and Do I Love You.
Rock band HAiG, comprising former Catfish and the Bottlemen founder Billy Bibby, Carl Forbes and Joe Money (former New York Tourists) performed a tight set of their edgy guitar pop.
After a short interlude, the stage went into darkness prior to the arrival of headliners The Fratellis in front of a crowd of over 3,000 people. Offenbach's Can Can theme was their exuberant intro music, followed by a rousing, celebratory set which kicked off with Henrietta.
The band played for over an hour including hits Baby Fratelli, Flathead and Whistle for the Choir along with crowd favourites Living in the Dark and Half Drunk Under a Full Moon from their new album. Their energy delivered a big dose of the feel-good factor, with a storming brass section and a trio of backing singers adding to the party. There was time for their famous rendition of Yes Sir, I Can Boogie and the country rock 'n' roll of We Need Medicine, before bringing the night to an end with their epic Chelsea Dagger.
With the crowd expecting that was it, they remained on stage to deliver an extended finish with the 60s classic Runaround Sue.
BSL interpreter Tony Redshaw did a brilliant job signing on the main stage.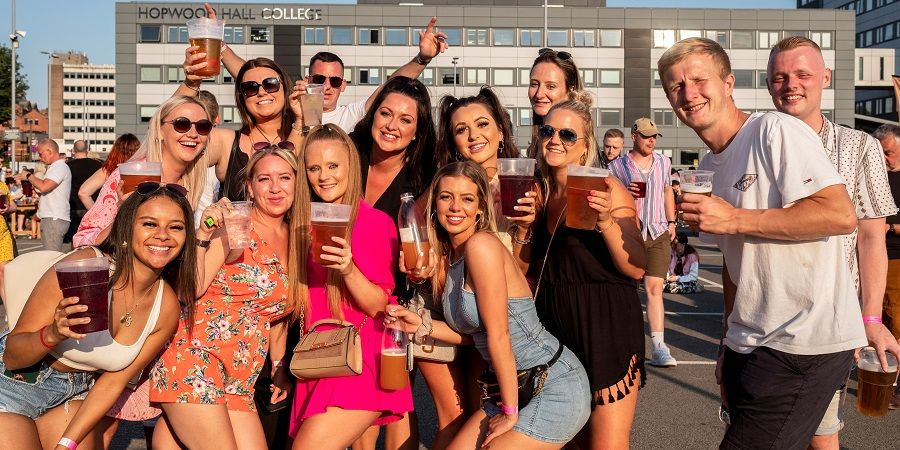 The festival's food and drink village was busy throughout the evening, and the town centre's indoor venues were packed with over 40 live performances from midday through to the early hours of the morning. Rochdale Artisan Market took place at Rochdale Riverside. After The Fratellis closed the main stage celebrations continued in The Flying Horse Hotel with 2 official after-show parties - rock band The Boutiques, Shouting At Strangers, Mexican and Irish flavours with Juan Direction and The Scattering.
Barry Fratelli, Manchester music icon Clint Boon and festival host Dave Sweetmore played a sold-out after-show party at Hoochi Koochi, with Bootleg Blondie and DJ Dave Haslam bringing the festival to a close at The Empire, while Heywood singer/songwriter Jack Carroll played at The Baum.
On Friday, 13 August 2022 there were 2 sold-out warm-up comedy shows at The Flying Horse headlined by Britain's Got Talent and Phoenix Night's star Steve Royle.
The festival was funded by the council together with main stage ticket sales and sponsorship from:
For photographs and videos from the festival, check our social media:
---
Related content