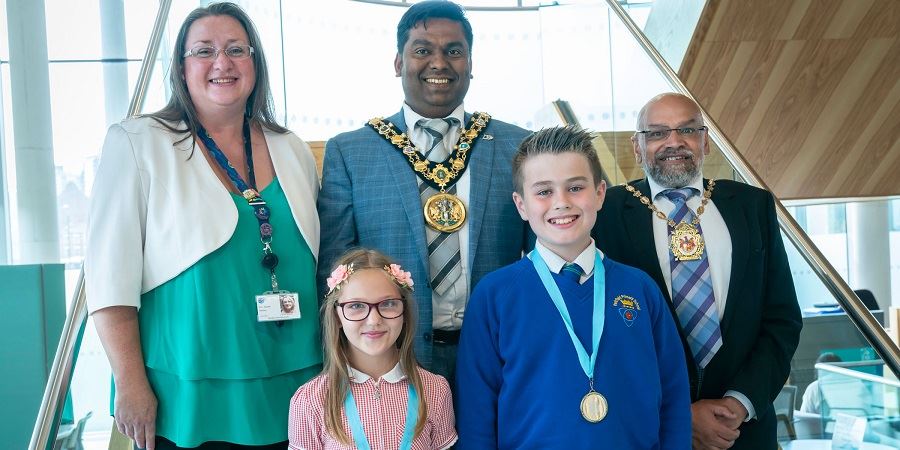 The annual children's champion elections have been held in all primary schools across the borough – following a record 100 young people putting themselves forward.
The current children's council worked hard to whittle the wonderful entries down to 20 before assessment sessions were held to select 6 finalists.
The election results were declared at a special event at Number One Riverside, Rochdale, with the awards given out by the Mayor of Rochdale, Councillor Ali Ahmed, and cabinet member for children's services and education, Councillor Rachel Massey.
A record-breaking 8,532 votes were cast in this year's election and school children from across the borough elected 10-year-old Owen from Parkfield Primary School in Middleton as their new children's champion for 2022/23.
Owen won by a landslide, securing a staggering 2,140 votes (25 per cent), the highest single total a candidate has received. He stood on 3 manifesto points - every child in the borough should have a chance to try new foods, improved mental health support for young people and developing a system like free school meals that gives every child the opportunity to play sport outside of school.
Speaking about his win, Owen said: "I am thrilled to have won, I'm really looking forward to working with the rest of the children's council to bring my manifesto points to life for children across the borough."
Erin Pollitt, 10, from St Mary's CE in Rochdale, was elected deputy children's champion. She spoke passionately in her manifesto speech about how she wants to create a community choir to bring all ages together to stop loneliness, build friendships and share experiences. She also wants to create an eco-club to encourage wildlife and she would like local teenagers to be trained as 'street buddies' to help younger children when playing out and keep them safe.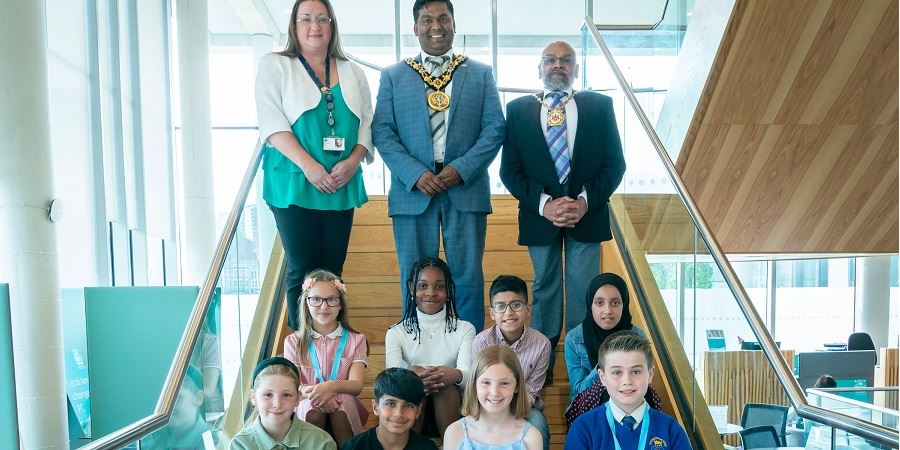 All the candidate with the outgoing champion Grace Butterworth (front row 1st left) and deputy Hashim Hussain (front row 2nd left).
Just pipped to the post were the 4 other finalists: Freya Butterworth, from Whittaker Moss Primary in Rochdale; Goodness Okunde, from St Andrew's CE Primary in Littleborough; Hafsah Ali, from Hamer Community Primary in Rochdale, and Ubaid Hussain, from Shawclough Community Primary in Rochdale.
All candidates, and the other 94 who entered, have been invited to be part of the wider children's council to help Owen and Erin with their plans.
Councillor Massey said: "The role of the children's champion is so special, each year they make such a difference to young people across the borough with the ideas they bring. Owen has some fantastic ideas and I'm really looking forward to working with him, and the wider youth cabinet, to get them off the ground and support him in creating a legacy."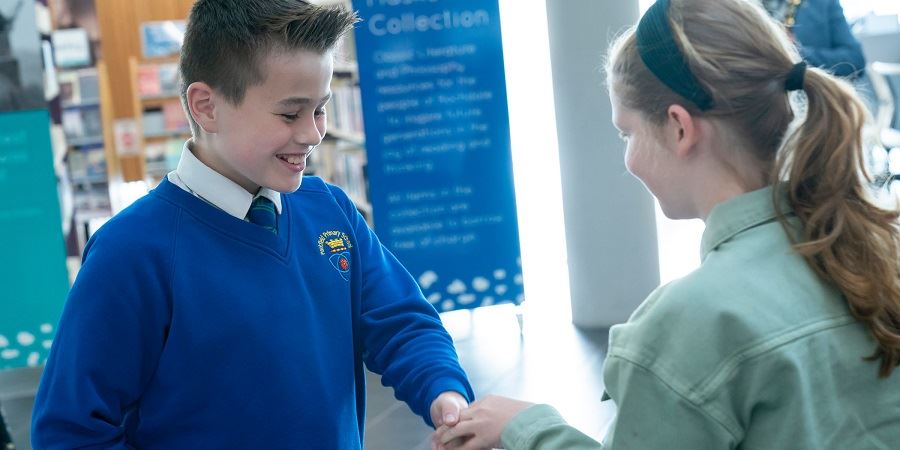 Outgoing champion Grace Butterworth hands over to Owen after his win.
The outgoing children's champion, 10-year-old Grace Butterworth, from Whittaker Moss Primary in Rochdale, achieved a lot of her manifesto points despite ongoing coronavirus (COVID-19) challenges. She was successful in introducing more therapy pets in schools, raising awareness of the benefits of outdoor learning on mental health and encouraging schools to train children in emergency first aid.
Children's champions, along with the wider children's council, work with decision makers to make changes that will improve the lives of young people across the borough and give local young people a chance to fulfil their ambitious ideas.
Related content