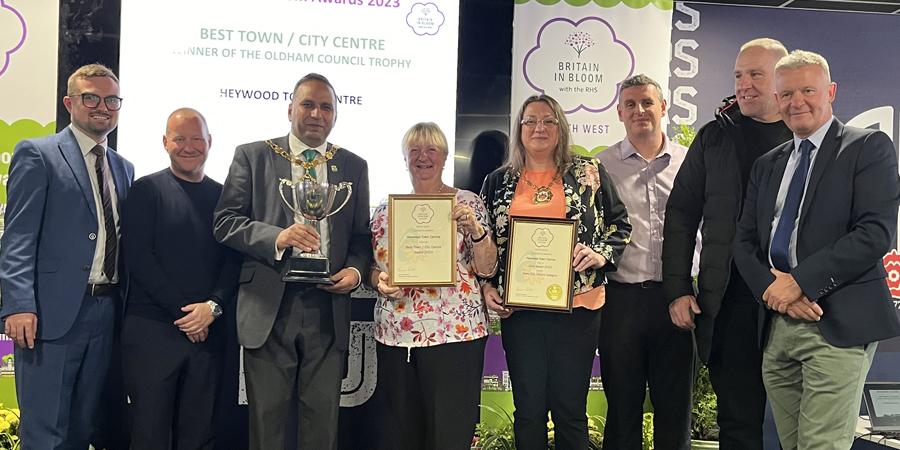 The borough of Rochdale swept the board again at this year's North West in Bloom awards gaining a very impressive 25 gold awards - 5 more than the previous year.
During a ceremony held at the Toughsheet Community Stadium in Bolton on Thursday, 19 October 2023, Heywood town centre gained gold and was selected as the overall winner of the 'town centre' category, naming the town as the best in the North West after judges deemed floral displays and maintenance as exemplary.
The Heywood in Bloom group, who are integral to the town's success, was also presented with the gold award for 'large town' and best 'large park' for Queen's Park. Chair of the group – Ellen Yates was also recognised for her outstanding contribution.
Hopwood Park achieved gold status in the 'small park' category, plus Face Medical Clinic maintained a silver gilt in 'small retail'. Heywood Distribution Park kept up their winning streak taking gold in the 'large commercial' category.
Rochdale in Bloom again took gold in the 'small city' group and was named joint gold winner alongside Chorley. They also took gold for 'town centre' after judges marked the presentation of the town as first-class, noting the much improved Baillie Street Quarter, thanks also to investments from Rochdale Business Improvement District (BID).
Denehurst Park in Rochdale also gained gold for the second year thanks to the dedication of the friend's group and growing activities taking place at the park.
Norden in Bloom took gold and was named as best joint 'large village', thanks to the hard work of the group, community volunteers and local businesses. Plus, the small but perfectly formed 'pocket park' - Jubilee Park maintained gold.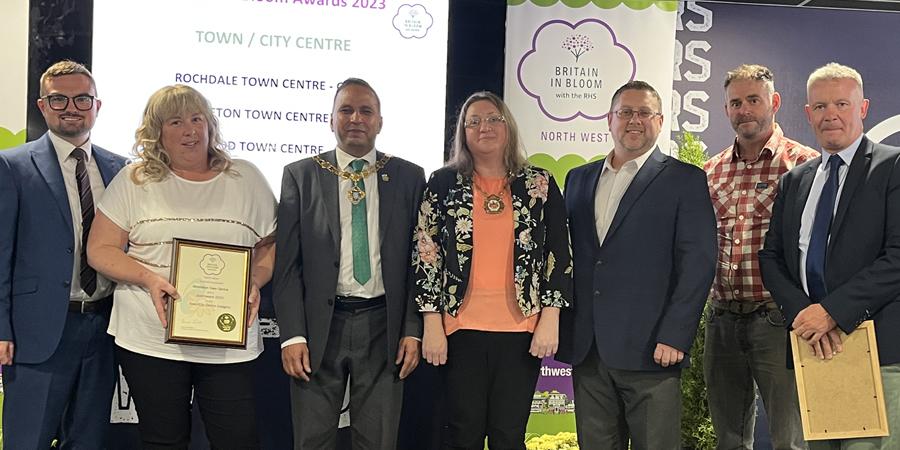 Middleton take gold at the Britain in Bloom awards.
Middleton also gained gold for 'town centre' and 'small city' thanks to the Middleton in Bloom group and local businesses. Jubilee Park took gold in 'small park' and also received an RHS discretionary award. Davina Unsworth, who is intrinsic to the group, was also awarded an outstanding contribution award.
Over in the Pennines, more awards came as gold was achieved in 'large town' and a silver gilt award for both Littleborough and Wardle Village and a gold 'small park' award for Hare Hill Park.
The delightful Healey Dell Heritage Centre and tea rooms took gold in 'small tourist attraction', with gold awards for Hollingworth Lake and Watergrove Reservoir, which were both 'large tourist attraction' winners.
Spotland and Falinge, and Kirkholt and Balderstone bagged a gold award in the 'urban community' category with Healey, Syke and Shawclough proudly sharing a silver gilt in the same category.
Local business Pinnacle Living in Birtle walked away with a hat trick of gold awards in the 'small commercial' 'best retail' and 'large accommodation' categories.
The Flying Horse Hotel in Rochdale came back at full speed after taking a break from the competition, hitting back with a gold in the 'small accommodation' category.
Zen Internet downloaded gold in the 'small commercial' category and was named the winner of commercial effort, which is outstanding for a local business.
Other superb achievements included the best mosque in the North West for Golden Mosque in Rochdale for their attention to detail and environmental efforts.
'Pride in where we live'
Councillor Liam O'Rourke, the council's cabinet member for climate change and environment, said:
"The awards speak for themselves. Our borough has once again been recognised as a force to be reckoned with, thanks to our first-class teams who work alongside dedicated volunteer groups and local businesses as we take pride in where we live.

"My thanks go to every person who has made this a bumper year of awards, proving that by working together, we can achieve great things."
Roy Down, Chair of Rochdale in Bloom, added:
"This year's success was built on a lot of cooperation, hours of voluntary work and an amazing partnership with the council.

"It is a credit to Rochdale as a community, how In Bloom gets bigger every year. I would like to pay tribute to the volunteers on the Rochdale in Bloom committee and all the council staff, who do an amazing job all year round. I would also like to congratulate our friends in the Middleton, Heywood and Pennines teams, who make our borough blooming marvellous."
Related content