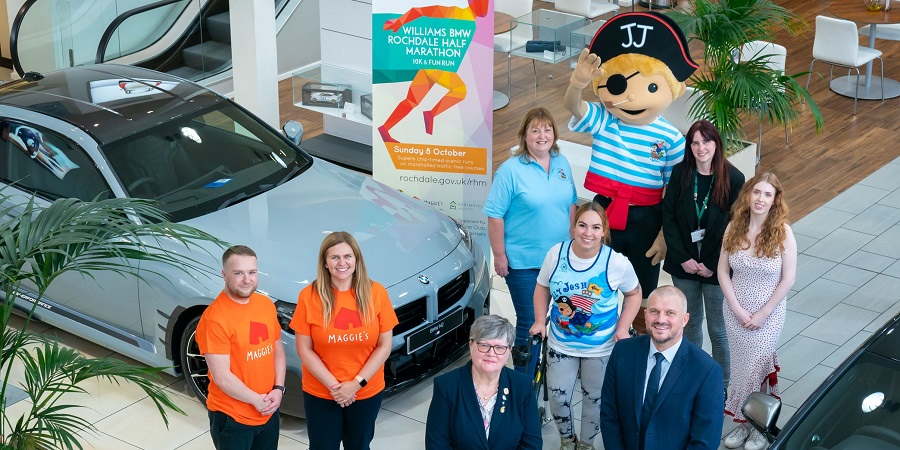 Charities across the region are set to benefit from Williams BMW Rochdale Half Marathon, 10K and Fun Run.
Organisers are encouraging runners and their supporters to help raise as much as possible when the event returns on Sunday, 8 October 2023.
Official charities for 2023 are Springhill Hospice, Jolly Josh and Maggie's, but with recent years being challenging for all who rely on fundraising, this year's support is going to be more important than ever.
Councillor Janet Emsley, cabinet member for equity, safety and reform at Rochdale Borough Council said:
"We're encouraging people to come forward and run for charity so please do sign up for a race if you haven't already. Whether it's our one mile, 10K or the half, we all have the potential to raise vital cash for really deserving causes. Every pound makes a difference and entrants are welcome to run for Springhill, Jolly Josh, Maggie's or another of their choice. Running for charity does give you that extra motivation, both on the day and during training. Your efforts make a real difference to the charity you are helping and for many it can be a way to say thank you on behalf of a charity that may have assisted a member of your family or a friend."
With more than 700 runners already registered for places, Rochdale Borough Council and title sponsor Williams BMW is asking those registered and everyone yet to sign-up, to consider running in aid of a good cause.
Scott Cunningham, head of business at title sponsor Williams Rochdale BMW, said:
"We know the impact that the pandemic has had on charity fundraising so hopefully we can encourage more to run for a good cause. Exercise is proven to benefit mental health and this event is the perfect opportunity to lace up your running shoes and enjoy a fantastic morning out. Our commitment to the town is demonstrated with this sponsorship which embeds the Williams family business into the community. I wish all participants luck with their training and we can't wait to see you all on the start line this autumn."
Representatives from all 3 charities visited Williams BMW Rochdale this week to meet the team and discuss plans for October's event.
Springhill Hospice is the local hospice for those living in the borough and has been supporting people who have a life-limiting illness such as cancer or respiratory disease for over 30 years. Corporate fundraiser Vicki Barnett said:
"We're so pleased to be part of this again, taking part in one of the biggest sporting events in the borough."
Jolly Josh is a Rochdale based charity that provides play, social and hydrotherapy-based sessions for children and young adults with complex medical needs and physical disabilities at its accessible centre in Castleton. Jaime Foster, a Jolly Josh volunteer who will be taking part in the fun run with her 2 young sons said:
"It's great to be involved for the first time and my family and I are so excited. Whether you're already running or if there's someone you know who is taking part that you can support, please remember how much of a difference fundraising can make to people's lives. This is also a great opportunity to get the word out about the Jolly Josh centre and the services it provides to our community."
Maggie's provides free support to anyone with cancer and their families, with centres built besides NHS hospitals in Greater Manchester and across the UK. Fundraising manager for Maggie's Oldham, Laura Tomlinson said:
"We're so fortunate to be the charity partner of Williams and we've been coming along to this event for years, so we know how awesome it is. We're so excited and grateful to now be invited on board. On the day Williams will have a team taking part and raising money for Maggie's and we'd love as many people as possible to run for us and join team Maggie's. We want a sea of orange vests on that starting line this year. Every penny raised helps us to be here for people when they need us most."
You can also contact the fundraising teams at the charities direct – you may be able to get a free place if you pledge to raise a certain amount of sponsorship.
You are welcome to run to raise money for one of the official charities or another charity of your choice if you wish.
The event is organised by Rochdale Harriers, Middleton Harriers and Rochdale Triathlon Club supported by Rochdale Borough Council.
You can also find the latest information about the event on the following social media channels:
Related content