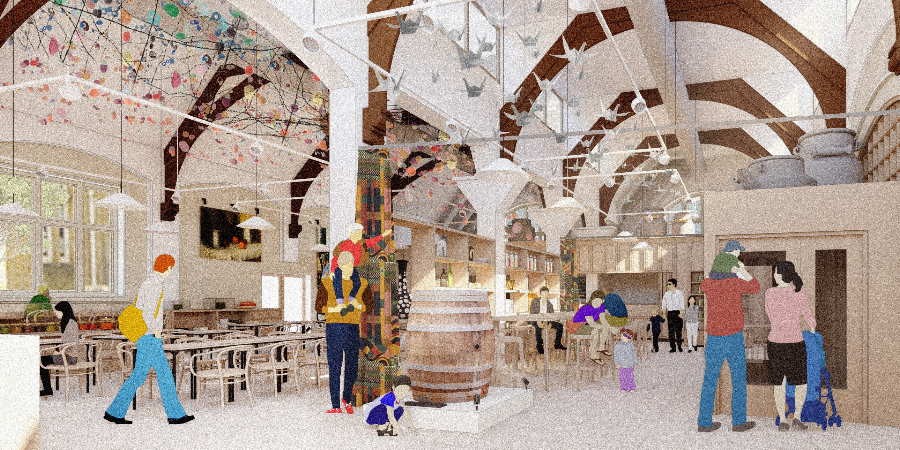 Redevelopment of Touchstones Rochdale, the borough's arts and heritage venue is progressing, with a planning application now submitted.
The building is set to be transformed into a creative and cultural hub with new flexible performance and production spaces for artists, improved areas for training, live events and exhibitions. The plans also include a new dining space integrating the borough's collections on the theme of food heritage, co-created with Rochdale's diverse communities. There will be vital works to improve accessibility and sustainability. If approved, work is due to commence at the beginning of 2024.
North-west based Hive Projects are leading on the project management, with architects Architectural Emporium, heritage architect BB Heritage Studio and landscape architect Gillespies. Structural and civil engineers Sutcliffe are working alongside quantity surveyor Identity Consult and mechanical, electrical and plumbing engineers Steven Hunt and Associates. Jenson Hughes are the fire consultant.
A planning application has been submitted for redevelopment of Touchstones Rochdale, the borough's arts and heritage venue. The building is set to be transformed. This visualisation shows some of the proposed new interior. (Images courtesy of Architectural Emporium)
'Improvements made for the future'
The plans are part of an £8.5 million investment into arts and culture in the borough over the next 3 years thanks to Arts Council England and Department for Culture, Media and Sport funding. In addition to Touchstones Rochdale, Heywood Civic Centre will receive a major makeover.
The Touchstones Rochdale project forms a key part of the establishment of a creative district in Rochdale town centre, which includes the refurbishment of Rochdale Town Hall and the new town hall square, the Fire Up digital and creative co-working space, new artist workspaces on Richard Street as well as new public art, signage and marketing.
Touchstones Rochdale has now closed as it prepares for work to commence. The building is operated by the council's leisure and culture partner, Your Trust, who are also partners in the project and Rochdale Development Agency (RDA) are managing the project on the council's behalf.
Councillor Sue Smith, cabinet member for communities and co-operation at Rochdale Borough Council said:
"We know Touchstones Rochdale is a much loved space but it has a great deal more potential than is currently being realised and is in much need of updating. This investment will help to make much more of the asset we already have, creating more opportunities for local people and visitors from across the region to participate in and enjoy culture here."
Mark Doyle, director of arts, heritage and wellness at Touchstones Rochdale, added:
"We're really excited about these redevelopment plans for Touchstones Rochdale and we can't wait to see the improvements made for the future. It's a process which has involved a lot of planning to cause minimal disruption whilst still providing a beacon of community activities in as much capacity as possible."
The Cultural Development Fund supporting the Touchstones Rochdale works is a Department for Culture, Media and Sport fund administered by Arts Council England. The Capital Investment Programme supporting the redevelopment of Heywood Civic is funded by Arts Council England and The National Lottery Fund.
Related content