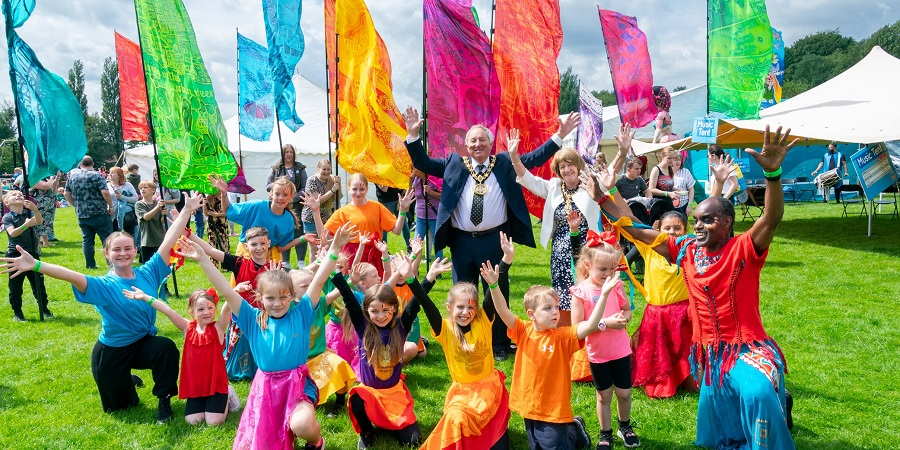 4 days of summer family fun descended on Heywood, Middleton, Littleborough and Rochdale last week as the new Feel Good Family Picnic was staged for the first time (25 July 2023–28 July 2023).
Organised by the council team behind Rochdale Feel Good Festival, over 9,500 people attended events in Queen's Park, Limefield Playing Fields, Hare Hill Park and Falinge Park as the spaces were transformed into a busy spectacle of theatre, puppetry, circus, dance, storytelling, music and more. There were over 20 free different attractions each day, including live performances, music, sports and shows for children of all ages.
'Absolutely fantastic'
Councillor Janet Emsley, cabinet member for events at Rochdale Borough Council said:
"The turnout was absolutely fantastic, the weather was relatively kind to us and it was good to see communities coming together as well as visitors from across Greater Manchester who packed into our beautiful parks and gardens. There were so many smiles, the atmosphere was lovely and feedback we have had so far has been superb. When you're launching a new event you're never quite sure how it's going to be received but this was a really high quality and diverse cultural offer which I think people appreciated and we know from the huge numbers attending that the demand is there.

"The parades were so visually stunning, the shows were excellent and there were plenty of activities to keep everyone busy. It was great to see so many people walking to the events or using public transport too. I can't wait for next year."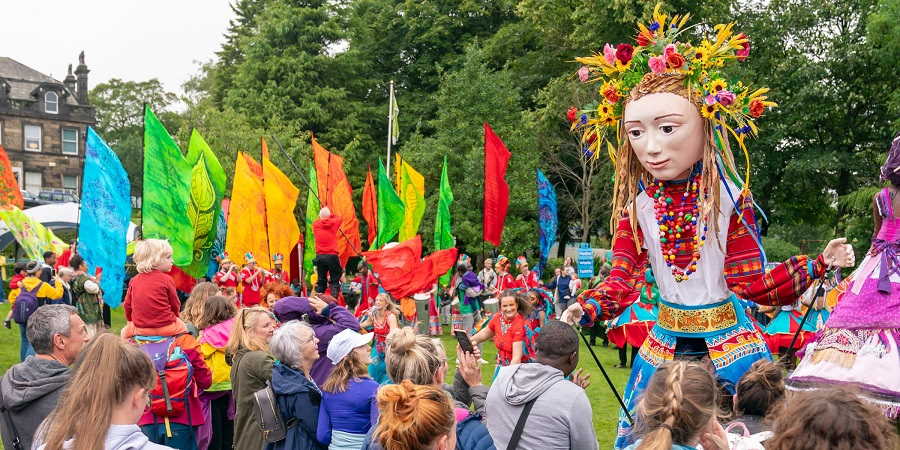 The Feel Good Family Picnic at Hare Hill Park, Littleborough.
The mayor councillor Mike Holly who attended the event in Middleton said it was wonderful:
"This was the perfect start to the school holidays, a good time was had by all and it was great to see our parks so busy. I'd like to say a big thank you to all the artists who took part and also the friends groups and volunteers who supported these events and our parks all year round. The Feel Good Family Picnic was a resounding success and had a real sense of community spirit which was fantastic to see."
Each day as visitors tucked into their picnic, a carnival procession travelled around the park led by carnival arts company Global Grooves, featuring giant puppets, costumes, funky drumbeats, flags and dance.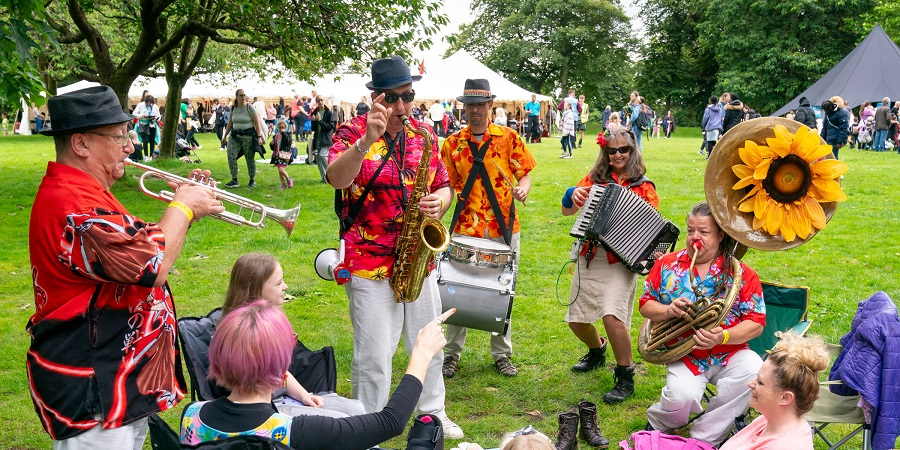 Multi-talented musicians from the Ski Band in Heywood. They played across all 4 parks.
Music was performed by Flat Cap Brass, The Ski Band and Northern Dholis; who played traditional Indian drums.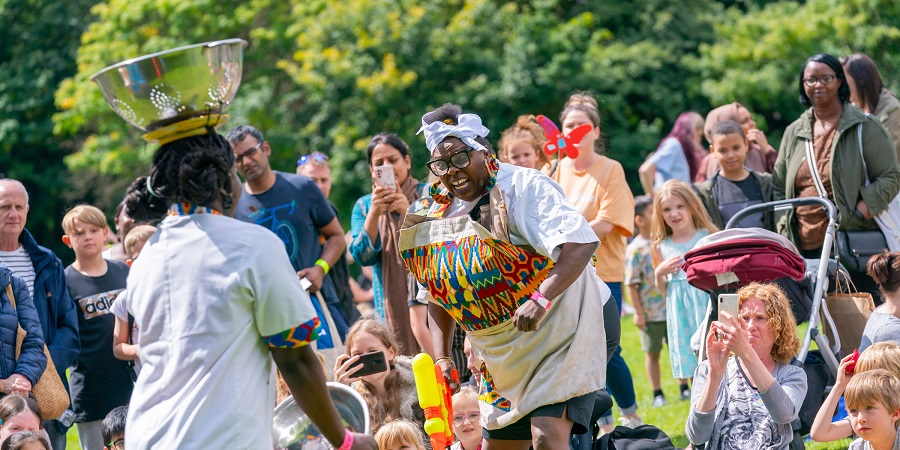 'Do what your mamma told ya' performed by Just More Productions at Falinge Park, Rochdale.
Outdoor shows were staged to packed audiences including 'Do What Your Mamma Told Ya' by Just More Productions, a comedy circus show and 'FLOOD' by Theatre Temoin which used circus, music and acrobatics to show how our coastline and communities have been effected by climate change.
The storytelling tent was very busy with performances every day including mesmerising Gav Cross who presented his hilarious 'Twisted Tales for Terrible Children' show.
Colour the Clouds Theatre Company presented 2 shows - at Rochdale and Middleton it was BUZZ – the story of a young worker bee who doesn't think what she does really matters, and then in Littleborough and Heywood the premier of Pip's Garden – an interactive story about a girl who finds herself with a vegetable patch but no idea how to grow anything.
Rochdale's M6 Theatre performed their brilliant play 'The Street Where I Live' and Skylight Circus Arts present a breath-taking aerial circus display featuring a host of daring acrobatics and more as well as hosting workshops to give an introduction to circus skills.
Visitors got chance to try a range of popular sports and games including precision ball game boccia, rounders, tennis, dance and football with staff from Your Trust and there were workshops and taster sessions where you can take part, covering a range of fun activities including Yoga, and martial arts.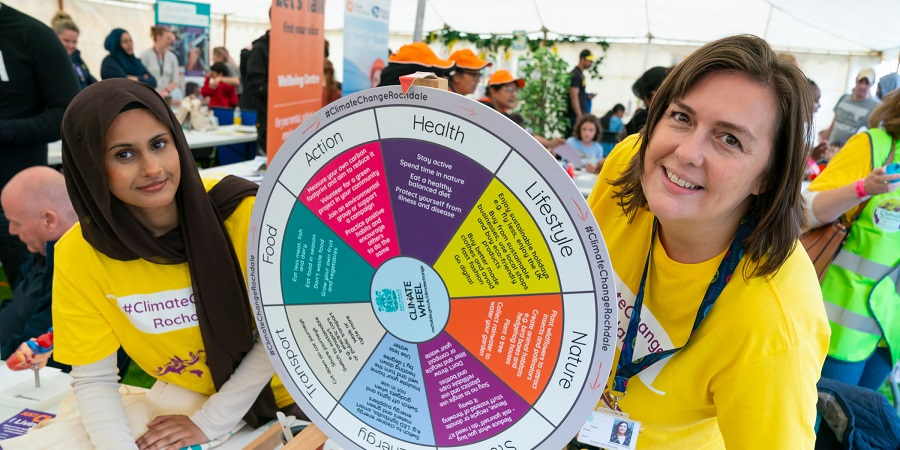 Visitors got advice on reducing their carbon footprint, saving energy and being kinder to the planet with council staff at the Feel Good Family Picnic.
The council wanted the event to reduce its impact on the environment as well as showing visitors ways to reduce their carbon footprint, save energy and be kinder to our planet so there were lots of sustainable activities to see and try including upcycling, health and wellbeing, nature based craft activities, climate change discussions and energy saving advice.
The Feel Good Family Picnic was staged by the council in partnership with Without Walls, a consortium of festivals and arts organisations bringing fantastic outdoor arts to people in towns and cities across England. It received funding from UK Government through the Shared Prosperity Fund and Greater Manchester Combined Authority (GMCA). The event was also supported by The Royal Toby Hotel.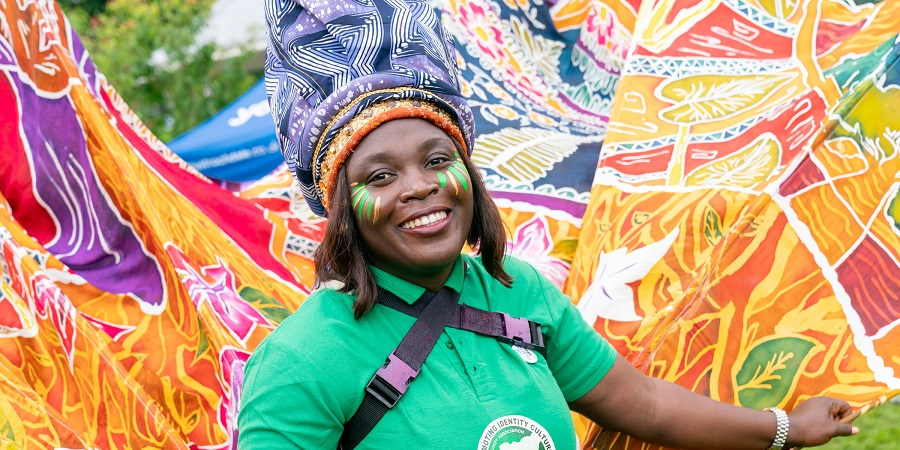 Rochdale Nigeria Community Association were amongst the performers in the carnival in Littleborough.
Being able to make the events free of charge was another positive, added councillor Emsley:
"Not every child will be going away this summer and I know many families really appreciated being able to bring their children along for free days out in the school holidays."
A number of items were left by visitors and these are now stored in lost property. If you think you may have left something at the event please email familypicnic@rochdale.gov.uk
And if you're posting on social media use #FeelGoodFamilyPicnic
Related content