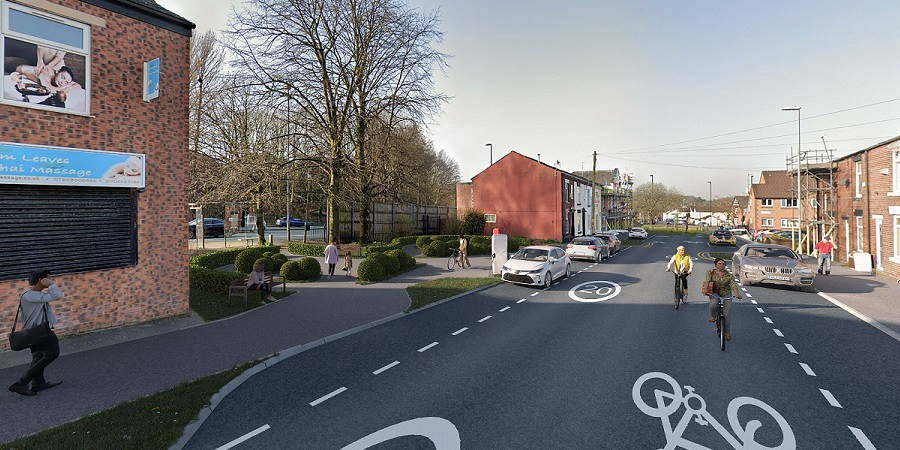 Residents can give their views on plans to extend the Castleton cycle lane from the Royal Toby Hotel into Rochdale town centre, with a new consultation now underway.
The proposals, which are part of Transport for Greater Manchester's Bee Network scheme, include the creation of a dedicated cycle lane, alongside major junction upgrades, public realm schemes and road resurfacing.
All 6 major junctions along this key route, including those at Roch Valley Way and Manchester Road, and Manchester Road and Drake Street, will be upgraded to include separate sections for cyclists and walkers.
In addition, access to Highfield Hospital would be substantially improved, with three new dedicated pedestrian and cycle crossings, covering Manchester Road and Kemp Avenue, replacing the existing subway access.
The project will bring new investment into Castleton, with major junction upgrades and new landscaping all along the route
To ensure safety and minimise disruption, much of the route would be marked out on sections of Manchester Road which run parallel to the main dual carriageway. This area is often referred to as Old Manchester Road.
The scheme would see the introduction of a 20 mph speed limit on Old Manchester Road with traffic calming measures, alongside complete resurfacing of both the roads and paths on these sections of the route.
Major public realm improvements and extensive landscaping would also feature, to ensure wider benefits to the local communities and businesses in the area.
This innovative approach of using quieter sections of road would enable the project to be delivered with no loss of existing on street parking, as any new cycle lane could be integrated into the existing street scene in these areas.
Residents are asked to help shape the scheme
Councillor Shah Wazir, cabinet member for highways, said:
"This scheme will unlock substantial funding for this area, which will help support key improvements, like new landscaping and crossing upgrades all along this busy route.

"It's important the public help us shape the scheme, including its design and detail, and that's why, in addition to the online consultation, we're writing to 2,000 residents and businesses in the area, and holding face-to-face events, so people can come and chat to our team."
The public consultation can be accessed online and people have until midnight on Sunday, 26 August 2023 to respond.
Related content