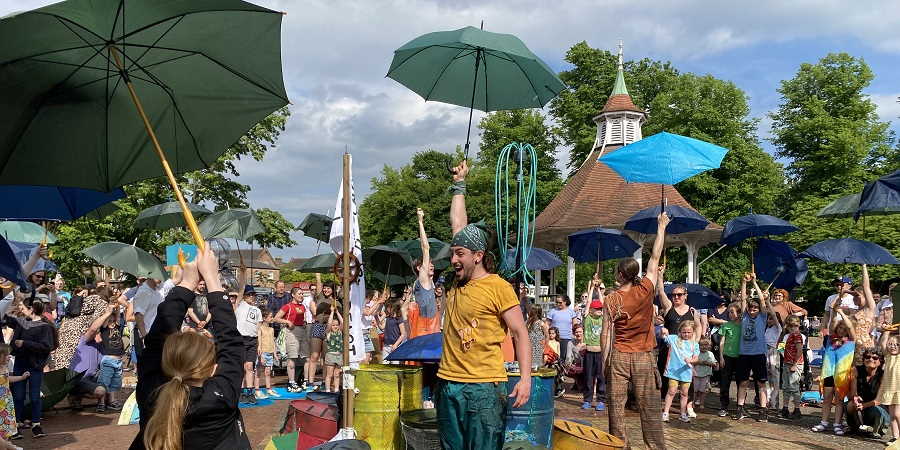 Final preparations are under way for the new Feel Good Family Picnic events being held in Rochdale, Heywood, Littleborough and Middleton next week (25 July 2023–28 July 2023).
4 of the borough's beautiful parks will be transformed into a spectacle of free theatre, puppetry, circus, dance, storytelling, music and more. Visitors to the free family events will be able to experience over 20 amazing different attractions each day, including live performances, music, sports and shows for children of all ages.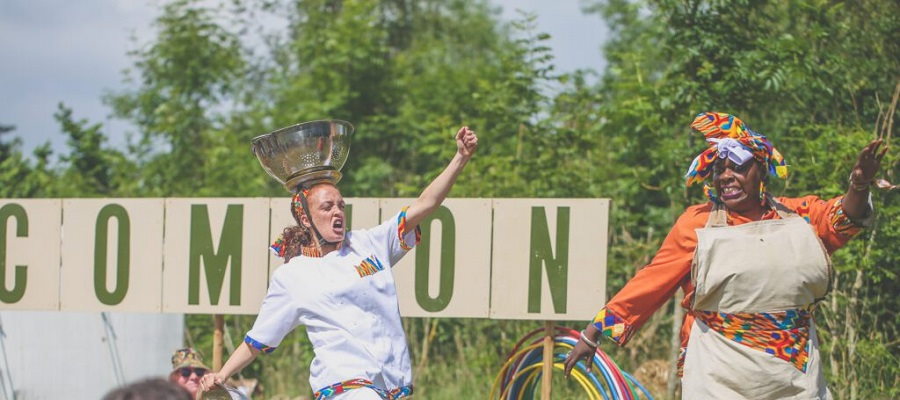 Spectacular outdoor performances include 'Do what your mamma told ya' by Just More Productions.
Performances include 'Do what your mamma told ya' by Just More Productions, a vibrant comedy circus show with a feast of food fusion and storytelling across geography and generations.
Theatre Temoin will perform 'FLOOD' their interactive outdoor spectacle. Utilising circus, music and acrobatics it features an epic adventure to understand how our coastline and communities have become 'seasick'. The inclusive performances will have a British Sign Language (BSL) interpreter.
Most shows and activities are the same at each location, however, Colour the Clouds Theatre Company will present 2 shows. At Rochdale and Middleton it's BUZZ – the story of a young worker bee who doesn't think what she does really matters, and then in Littleborough and Heywood it's the premier of Pip's Garden – an interactive story for children aged 3-11 about a girl who finds herself with a vegetable patch but no idea how to grow anything.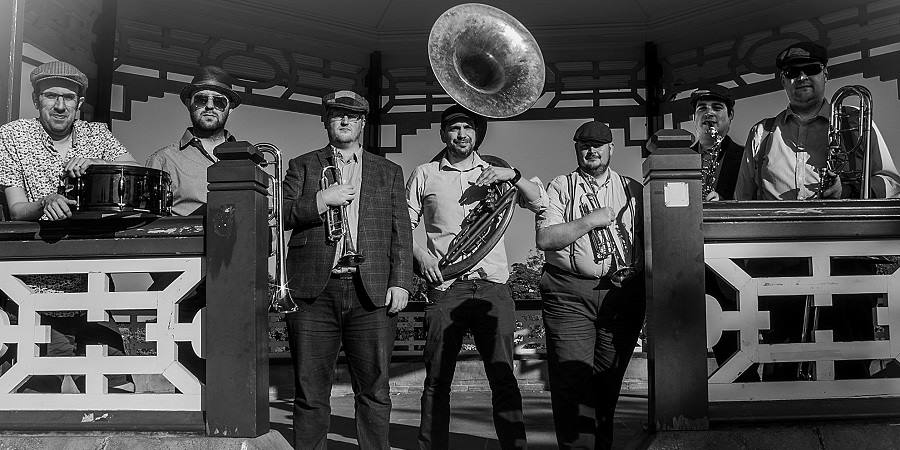 Flat Cap Brass play fun and friendly brass as you've never heard it before.
Live music will be performed by Flat Cap Brass who play fun and friendly brass as you've never heard it before. The Ski Band will play a selection of tasty ska, calypso, reggae and rock 'n' roll tunes and there will be an appearance by Northern Dholis; who play traditional Indian drums called dhols to blend folk sounds with modern pop hits.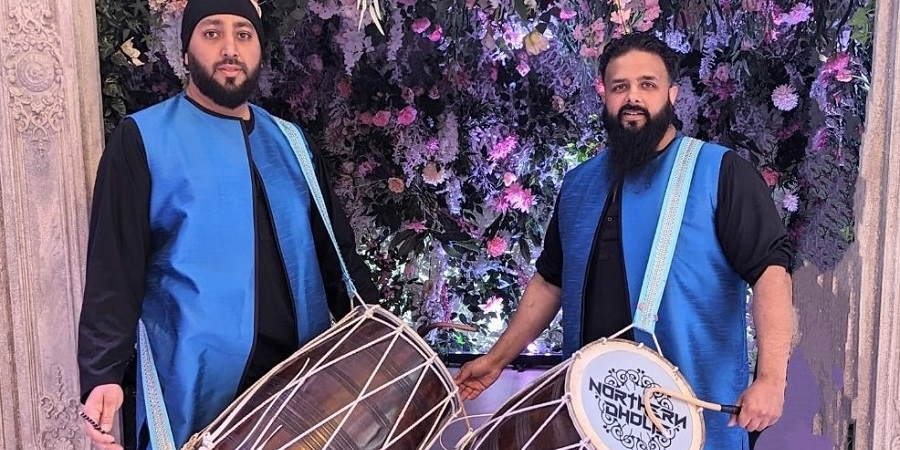 Northern Dholis play traditional Indian drums called dhols, blending folk sounds with modern pop hits.
At 1.45pm each day it will be time for a real Feel Good picnic, with visitors encouraged to bring their own supplies and tuck in while a stunning carnival procession travels around the parks led by international carnival arts company Global Grooves, featuring giant puppets, costumes, funky drumbeats, flags and high energy dance.
'Excited'
Don't worry about the unpredictable weather – rain won't stop the fun - almost all attractions will be in covered marquees and tents, with additional cover brought in should rain be forecast.
Organisers want the event to reduce its impact on the environment as well as showing visitors ways to reduce your carbon footprint, save energy and be kinder to our planet so there'll be lots of sustainable activities to see and try including upcycling, health and wellbeing, nature based craft activities and water saving tips. You're encouraged to take your picnic waste home, and bring a water bottle as free refills will be available all day. Visitors are encouraged to walk, car share or use public transport where possible.
Master storyteller Gav Cross presents his hilarious 'Twisted Tales for Terrible Children' show – revealing the terrible, silly and the downright incredible 'truths' behind famous classic tales.
Rochdale's M6 Theatre will perform their play 'The Street Where I Live' - a captivating introduction to live performance for children aged 3 to 6 and their families, and Skylight Circus Arts will present a breath-taking aerial circus display featuring a host of daring acrobatics and more.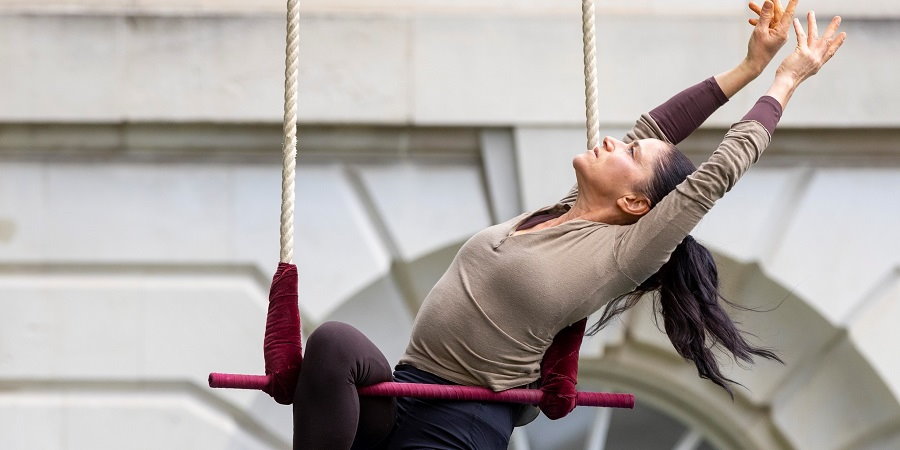 Skylight Circus will present a breath-taking aerial circus display featuring a host of daring acrobatics and more.
Visitors can also try a range of popular sports and games including boccia, rounders, tennis, dance and football with staff from Your Trust. Look out for workshops and taster sessions where you can take part, covering a range of fun activities including circus skills, Yoga, and martial arts.
The Feel Good Family Picnic will take place in Falinge Park (Rochdale) on Tuesday, 25 July 2023, and then Limefield Playing Fields (Middleton) on Wednesday, 26 July 2023 and Hare Hill Park (Littleborough) on Thursday, 27 July 2023. Its final stop will be Queen's Park (Heywood) on Friday, 28 July 2023.
Councillor Janet Emsley, cabinet member for events at Rochdale Borough Council said:
"I'm so excited to see this new event launch. This will be a great opportunity for families to spend some quality time together. It's so important that we develop new events like this in our borough, to present a high quality cultural offer, offering unique and exciting opportunities. Events such as this can help to grow our visitor economy and I'm looking forward to seeing lots of local people as well as visitors from across Greater Manchester, giving us the opportunity to showcase what the area has to offer and giving parents something fabulous to do with children in the holidays."
The event is accessible to wheelchair users and performances are either British Sign Language interpreted or highly visual and therefore accessible for deaf and hard of hearing audiences, as well as non-English speakers.
The Feel Good Family Picnic will be staged by the council in partnership with Without Walls, a consortium of festivals and arts organisations bringing fantastic outdoor arts to people in towns and cities across England. It has received funding from UK Government through the Shared Prosperity Fund and Greater Manchester Combined Authority (GMCA).
All events run from 11am to 4pm.
Share your experience on social media using #FeelGoodFamilyPicnic.
Related content