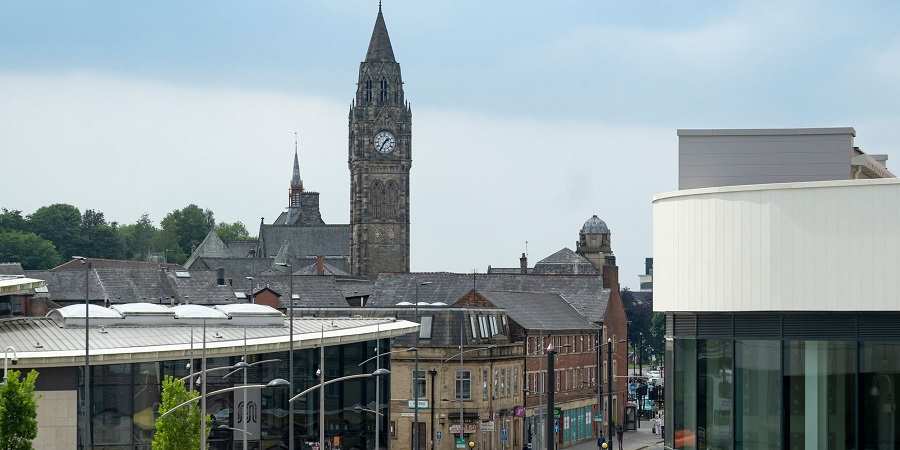 The Rochdale Riverside retail and leisure scheme is hailing another bumper year, which saw footfall hit more than 1.5 million, despite ongoing economic challenges facing the country.
Visitor numbers to the scheme in the heart of Rochdale town centre have steadily climbed since its opening in spring 2020, with almost 1 million visits in 2021 and 933,000 visits the year before.
The development is now 92 per cent occupied by floorspace
The development boasts a number of high street retailers, including Next, M&S and H&M, as well as leisure operators like Reel Cinema, Puttstars mini golf, Nandos and Dunkin Donuts. It is currently 92 per cent occupied by floorspace and talks are ongoing with further potential occupiers. The development also generates £1.3 million per year in business rates revenue.
Councillor John Blundell, cabinet member for economy and regeneration and Rochdale Development Agency (RDA) board member, hailed the success of the development. He said: "The huge success of Rochdale Riverside shows that our regeneration programme is going down well with both residents and visitors, and it's the right plan for the borough. I'm really impressed that people have continued to support the scheme, and the many local people who are employed there, despite the obvious financial pressures we're all facing right now.

"This seal of approval is a really good sign as we move forward with masterplans to further regenerate Heywood, Littleborough and Middleton, as well as more improvements for Rochdale town centre, including the much anticipated reopening of Rochdale Town Hall."
The development also supports local charities and holds regular events
In addition to creating a new leisure and retail offer, Rochdale Riverside is also a community space, hosting regular artisan markets and popular events like the Christmas lights switch on and the recent brick show, to celebrate all things Lego, in collaboration with Rochdale Business Improvement District (BID). It also supports a number of local charities, including Rochdale Mind and the Giving Back Christmas Toy Appeal.
Community groups and charities that would like to find out more about using Rochdale Riverside to raise their profile and fundraise can visit the Community page on the Rochdale Riverside website.
Rachel Byrne, Rochdale Riverside manager, said: "We're really pleased that Rochdale Riverside continues to be a big hit, with visitor numbers growing year on year. It's clear with both the offer we have, and the work we do with our local community and charities, that we're an important part of the wider fabric of Rochdale town centre. We'll continue to build on this fabulous foundation and will be celebrating all things Rochdale for many years to come."
Rochdale Riverside is a development delivered by RDA on behalf of the council in partnership with Genr8 developments and Kajima.
Related content