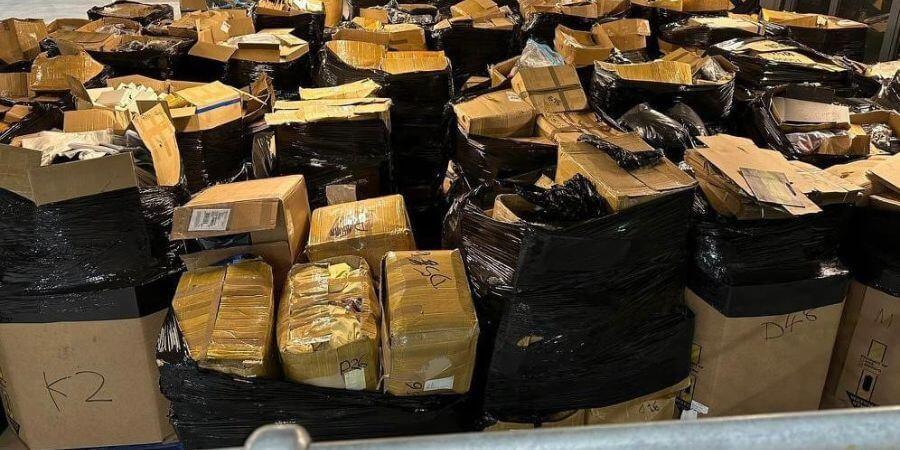 Rochdale Borough Council's trading standards team has disrupted a Greater Manchester criminal counterfeit goods operation worth up to £65 million a year.
In January the council carried out inspections across the borough and a number of seizures of illegal tobacco, cigarettes and vapes were removed from a number of shops. While the team were in Heywood, they noticed 2 males acting suspiciously as they loaded items into a storage container.
The 2 men were questioned and found to be connected to a further 10 containers, rented at sites across the borough of Rochdale. During searches, all of the containers were found to be holding high-value counterfeit items, which included clothing, shoes, handbags, jewellery, perfumes, watches and cosmetic fillers. Over 2 days, approximately 60,000 items were seized, with a retail value estimated at £9 million.
The following month, Rochdale's trading standards team led an investigation into a local trader found to be part of a large distribution network of counterfeit goods across the UK. They found that the trader had been sending 300 to 500 parcels per day through a courier network from an unknown premises in the Manchester area. Working with the courier, the council intercepted some of the parcels and all items were later confirmed to be counterfeit by trademark representatives that manufacture the legitimate goods.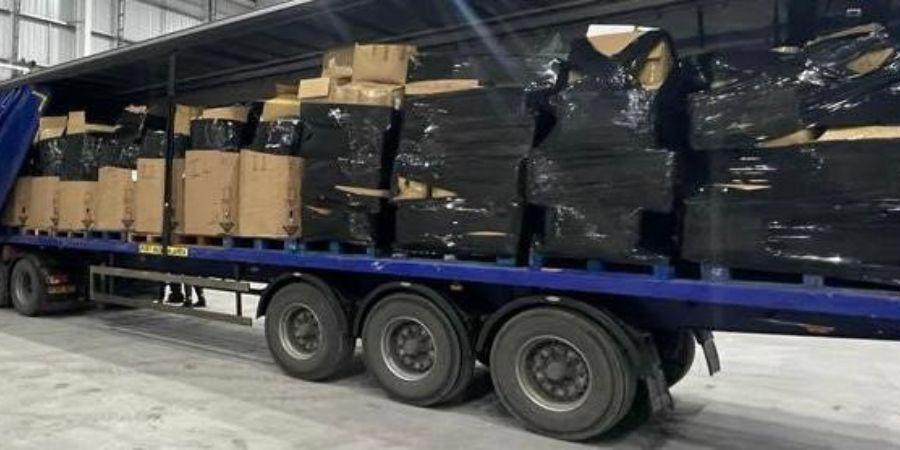 A fraction of the counterfeit seizures
The sheer scale and size of the counterfeit operation quickly became apparent when a further 11 pallets were intercepted in just one evening. It was later discovered that shipments of 11 containers had been going out 6 days a week for a significant period of time. The street value of these counterfeit items was calculated to be over £1 million per week or more than £65 million per year.
The council's trading standards team and the Police Intellectual Property Crime Unit (PIPCU) discovered the parcels were being shipped to 8 industrial units containing more counterfeit items, with some operating as a badging factory and distribution hubs.
All the items were seized at these sites with assistance from the police, PIPCU, Lighthouse Security and Manchester City Council trading standards team. The seized items filled 3 forty-feet containers, with an estimated retail value of £15 million.
Councillor Neil Emmott, leader of Rochdale Borough Council, said:

"Our trading standards team need to be highly commended for their tremendous efforts. They have worked above and beyond their normal daily duties to physically seize counterfeit items worth millions of pounds and disrupted a counterfeit network worth over £65million per year.

"What people may not realise is that apart from often being dangerous and always inferior, these goods are funding organised crime. These traders do not pay taxes, maybe illegally claiming benefits and put genuine local traders who abide by the rules, out of business. You may think you have bagged a bargain, but by funding organised crime you have assisted crime gangs who are responsible for forced labour, drugs, human trafficking, prostitution and child labour."
Related content